In today's fast-paced business environment, effective communication between customers and agents is paramount for providing exceptional customer service. To ensure smooth interactions and maximize agent efficiency, adhering to best practices in agent messaging is crucial. In this article, we will explore the key guidelines for agents to follow, promoting seamless communication and elevating the overall customer experience. 
Beginning the Shift:
As you commence your workday, it is essential to ensure that you are available and ready to assist customers promptly. To do so, follow these simple steps to set your online status:
Check Your Status Online:
Access your profile and verify if you are currently online.
If your status shows as offline, switch it to Online to signal your availability to customers.         
Conversation Status:
A crucial aspect of providing excellent customer service is staying informed about the current conversation statuses. The Status Bar offers a quick and clear view of ongoing interactions. Familiarize yourself with the icons displayed in the status bar and understand their meanings to efficiently manage conversations.

In addition to the status bar, there are some valuable features that can significantly improve your responsiveness and ensure you never miss any live incoming conversations. These features are designed to keep you promptly informed of new customer interactions and provide a seamless messaging experience. 
1. Large Ring Alert: If you prefer a more noticeable alert for incoming live conversations, you can enable the Large Ring Alert feature.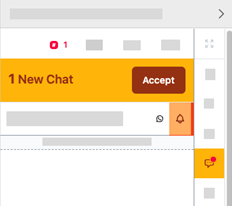 This will ensure you never miss an urgent chat request, even in a bustling work environment. To enable the Large Ring Alert, follow the simple steps here: Large Ring Alert.
2. Audio and Visual Notifications: For an even more comprehensive alert system, you can also enable audio and visual notifications. This feature combines a sound notification with a visual pop-up on your screen, ensuring you are promptly notified of incoming chats. 
To enable the audio and visual notifications, follow these simple steps: 
        Step 1: Click the Settings (cog icon) 
        Step 2: Click Audio notification to enable the sound notification 
        Step 3: Click Visual notification to enable the visual pop-up notification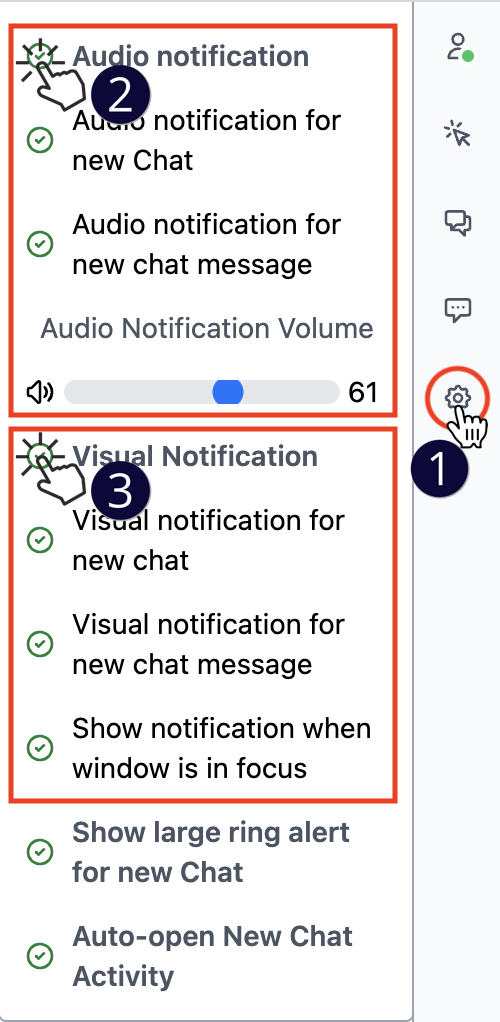 Conversation:
When you start your day, it's best to begin by attending to unread chats first: 
1. Prioritize Unread Chats:
Focus on addressing unread messages to address customers' inquiries promptly.         
2. Efficient Conversation List Navigation:
Utilize the conversation list to manage multiple interactions effectively.       
The interface is designed for asynchronous communication, enabling you to handle customer requests efficiently and reduce response time. 
3. Transcripts and Agent-Visitor Distinction:
Upon selecting a conversation, access the full transcript to understand the context thoroughly.
Quickly distinguish between agent and visitor messages to maintain clarity in the conversation flow. 
4. Closing Chats:
Aim to conclude chats gracefully, especially in Live Chat scenarios.
You can also end conversations offline to enhance the customer journey.         
5. Identify Channel and Authentication Status:
While chatting with customers, identify the channel of origin and their authentication status.         
This understanding will empower you to tailor responses appropriately, leading to more meaningful conversations. 
6. Using Emoji for Effective Interaction: 
Use emojis thoughtfully to add a personal touch and express emotions effectively. Incorporating emojis can help create a positive and friendly atmosphere during the conversation.
Before Taking Breaks:
When it's time for a break, follow these important steps to ensure a smooth transition and prevent any disruptions in customer service:
Set Your Status to Away: Before stepping away, make sure to set your status to "Away" to signal to your team and the system that you are not available for new incoming conversations.   
Before going on a break, ensure that you don't leave any customers waiting for a response. If you have active conversations in progress, you can take one of the following actions:
Inform Customers About Your Availability: If you need some time to get back to the customers, let them know by providing an estimated timeframe for your response. Set the manual Service Level Agreement (SLA) to reflect this commitment, ensuring customers are aware of when they can expect a reply.
Return Conversations to the Queue: Alternatively, if your break is likely to be extended or you are unable to respond within a reasonable timeframe, consider returning the conversations to the queue. This way, another available agent will be able to attend to the customers promptly.

Transfer Ongoing Conversations: In cases where a customer requires immediate assistance, consider transferring the ongoing conversation to another available agent. This ensures the customer's needs are met without unnecessary delays.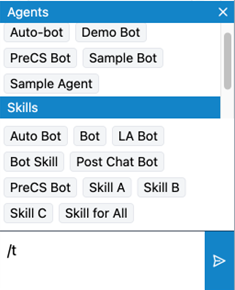 Preparing for the End of Your Shift:
At the end of your day, ensure a smooth transition by following these steps:
Adjust Your Status: About 10 minutes before you're ready to wrap up, switch your status to "Away." This prevents new incoming conversations from being assigned to you. For precise timing, refer to your company's guidelines.
Resolve Open Conversations: Take a moment to review your ongoing conversations and address any that can be closed. This tidies up your workload and ensures no loose ends.
Plan for the Next Day: Identify which conversations you intend to continue servicing the following day. Inform the customers about your availability and manually set the Service Level Agreement (SLA) accordingly.
Manage Ongoing Conversations: For conversations that require immediate attention but won't be addressed by you, return them to the queue. This enables another agent to assist the customer promptly.
By following these best practices for agent messaging, you can streamline communication, boost agent efficiency, and ultimately provide outstanding customer experience. Effective communication is the key to building strong customer relationships, and these steps will help you achieve just that. Remember to always stay customer-focused, be empathetic, and maintain a professional yet friendly tone in all your interactions. Happy messaging!