Meaningful Connection Score (MCS)

What is an MCS?
The MCS is an automated, unbiased way of measuring the relationship between consumers and brands. It analyzes the sum of each consumer's conversation with a brand, and does not rely on customer surveys.
How is an MCS calculated?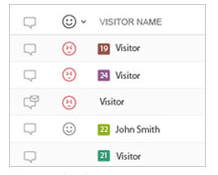 Each MCS is determined through a powerful text-analytics system based on advanced natural-language processing techniques, customized specifically to live chat conversations.

During an exchange between customer and Agent, each sentence is analyzed in real time (as soon as they press Send) and gets a positive or negative score. An average of each line's score is aggregated to determine the sentiment for the entire conversation. This average is continually updated, and an overall score is assigned at the end.
How is it presented in Live Assist?
Live Assist for Dynamics 365 uses session-level sentiment—a positive or negative indicator measuring someone's feelings toward a company based on the emotions expressed during a service conversation.