You can set your availability, or presence status to one of the following:
To do this, click on the "Presence Status" icon highlighted below, and select one of the available options.
See: Agent availability status
Changing Your Default Availability Status
When an Agent first logs in, their availability status is set to the default state. It is possible for an agent to change their default availability state, so for example, they do not accept new engagements when they first log in to Live Assist for Microsoft Dynamics 365.
To change your default availability, you must enable "Night Vision" from the Engagement Portal.
Press the small icon in agent's Engagement Portal:

 Then select your unique ID, under Agent State select Edit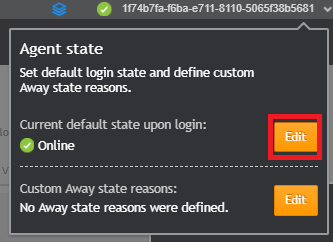 You may then set your Default Agent State: