Predefined Content: The Agent's Best Friend
At any given time in your shift as an agent, you are expected to handle multiple chats in a competent and efficient manner. By using the predefined content in your chats, you can relieve some of the pressure on yourself, achieve your goals and maintain your high standards. The use of predefined content saves time, and can ensure consistent, error-free responses and a professional "tone of voice".  Predefined content is sometimes referred to as a 'canned message'.
You can access the predefined phrases while you are chatting and, rather than retyping repeatedly, you can select the relevant, ready-made response.  Simply type '/c' into the chat and use the box that appears to select a message.  If you provide further text, this will be used to automatically filter the list of content down to messages that contain the word you started typing.  Select your desired message, and then send.  It's that simple!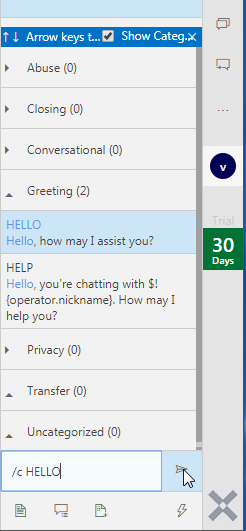 Priror to Live Assist for Microsoft Dynamics 365 version 3.5.0, when an Agent is allocated a new skill, it will be necessary for them to clear their browser-cache to see any new predefined messages associated with that skill.  It is not necessary to clear the browser cache in versions.