The Cosmos release introduces support for chatbots in Live Assist for Dynamics 365.  Using the APIs and SDKs that come with Live Assist for 365 you will be able to get up and running with chatbots in no time at all, whether you are writing a chatbot for the first time or already have a chatbot and are looking to add the Live Assist to improve customer engagements.
Choosing how to integrate your chatbot with Live Assist for Microsoft Dynamics 365
We provide two ways for you to integrate chatbots and the one you choose will depend on a number of different factors.  
The Bot Agent Connector allows your bot to act as an agent.  You get all the benefits of the simple web and mobile integration of Live Assist while allowing bots to handle the chats.  In the current release we have support for bots running in the Microsoft Bot Framework and plan to add further frameworks in the future.
The Bot Escalation SDKs (JavaScript and .NET) provide a means for your bot to escalate to a human agent using Live Assist when it needs to, avoiding the need to divert them to a voice call or a different chat interface.  You can't make use of the engagement configuration and simple web/mobile integrations that come with Live Assist but your bot can run using any framework you like and your visitors can be on any client supported by that connector, e.g. Skype or Facebook Messenger.
The table below outlines the capabilities of these two models.
Category
Bot Agent Connector (Bot As An Agent)
Bot Escalation SDK (Bot As An Enabler) 
Your existing investment in Chatbots

You are already using Live Assist or you like the ease of adding chat to your website or mobile application and configuring engagements.  
You do not need to connect to customers using Skype or Facebook Messenger.

You already have invested in bots and want to connect with customers on clients like Skype and Facebook Messenger.
You primarily need the ability to allow a customer to reach an agent when they are not satisfied with the responses from the bot, and don't need the ability to configure more complex engagements on web and mobile.

Works with the drop-in JavaScript tag 
Yes
No
Works with the Mobile SDK
Yes
No
Campaign configuration in the Engagement Portal
Yes
No
Support for other clients (e.g.Facebook Messenger, Skype)
Not yet, will be added in the future
Any client supported by your chosen bot framework
Supervisor visibility
Fully integrated into Live Assist, supervisors can see all chat queue including those serviced by bots.
Supervisors have no visibility of chats before escalation
Pre-Post Chat Surveys
Configure through the Engagement Portal
Create your own using your bot
Once the chat is transferred to a human, is co-browse supported?
Yes, the agent simply clicks on the co-browse button and the visitor will then click to accept and the co-browse will start
Yes, however because the client (e.g. Facebook Messenger) will not have the Live Assist code embedded you will need to make use of the short code feature we will shortly be adding to Live Assist for Dynamics 365.
Pricing
A bot consumes 1 Live Assist Enhanced License and can handle 3 concurrent chats
No additional licensing cost is associated with the Escalation SDK
Bot Agent Connector — Bot as an Agent
With this model, Live Assist is in the path from the start of the engagement with the customer.  The customer will either be using a web page enabled with the Live Assist drop-in tag or a mobile application enabled with our mobile SDK.  In the diagram below you can see that the chat is routed through Live Assist for Microsoft Dynamics 365 ('LA for 365') where the skills-based routing is configured to route the chat to a skill serviced by a bot.  At some point the bot determines the chat should be transferred to a human agent.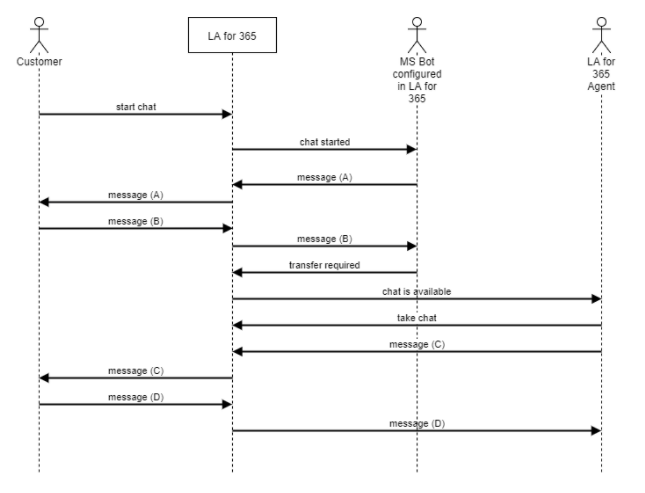 Currently, only bots from Microsoft's Bot Framework are supported when using the Bot Agent Connector. See https://dev.botframework.com/.
Bot Escalation SDK — Bot as an Enabler
This model allows an existing bot (from any platform) to integrate with Live Assist for Microsoft Dynamics 365. Engagements are not managed by Live Assist and Chats are routed through to Live Assist having been through the Bot and they continue to go through the platform the bot resides in. A bot can decide to escalate a visitor it is currently chatting with to an agent in Live Assist. An SDK is used to do this and afterwards the bot is used as a relay between the visitor and the agent.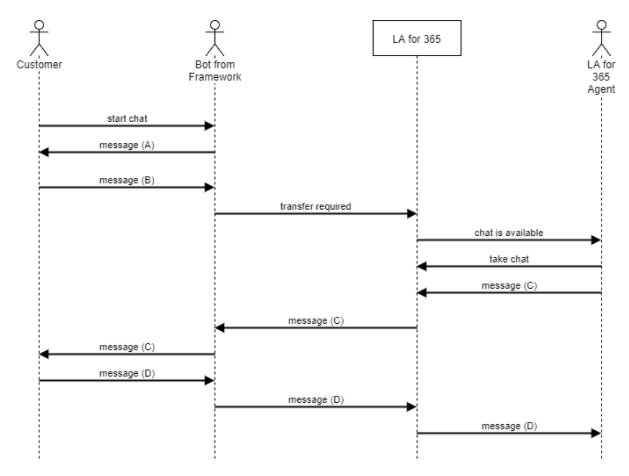 Next Steps
Review the Getting Started with Chat Bots Article for more information developing Live Assist enabled Bots.