Your Dynamics 365 installation comes with an add-on that allows your customers to seek self-service support on a web portal hosted in the Azure cloud.
To create a portal:
Sign in to Power Apps.

Under Make your own app, select Portal from blank.

If the selected environment does not contain portal pre-requisites, a message is displayed in the Portal from blank window suggesting you select another environment or create a new one.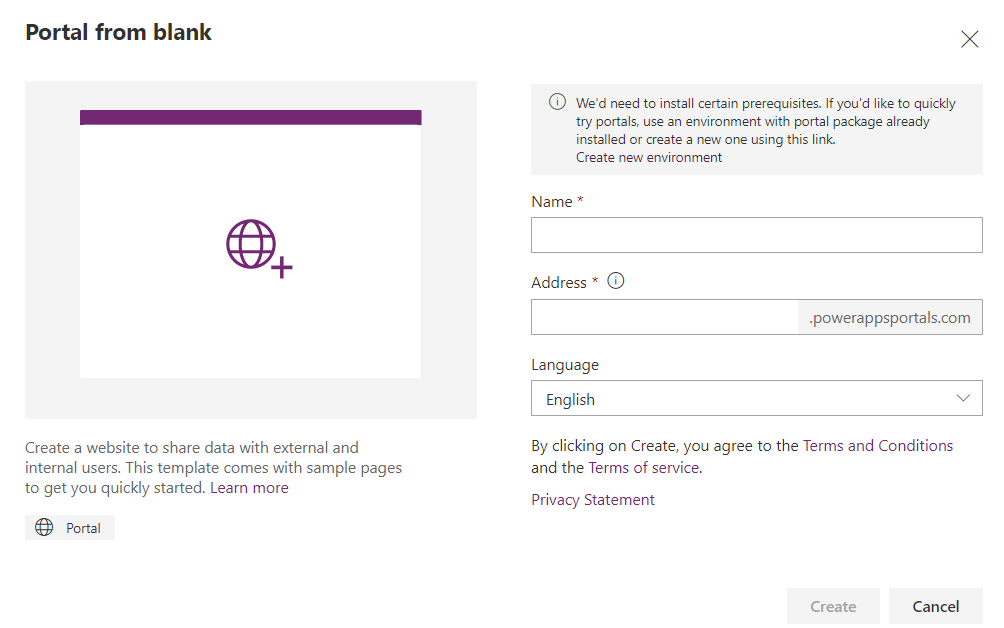 If you choose to proceed with the current environment, enter the required information in the window as mentioned in the following steps. If you choose to create a new environment, see Create new environment.

In the Portal from blank window, enter a name for the portal and address for the website, and select a language from the drop-down list. When you're done, select Create.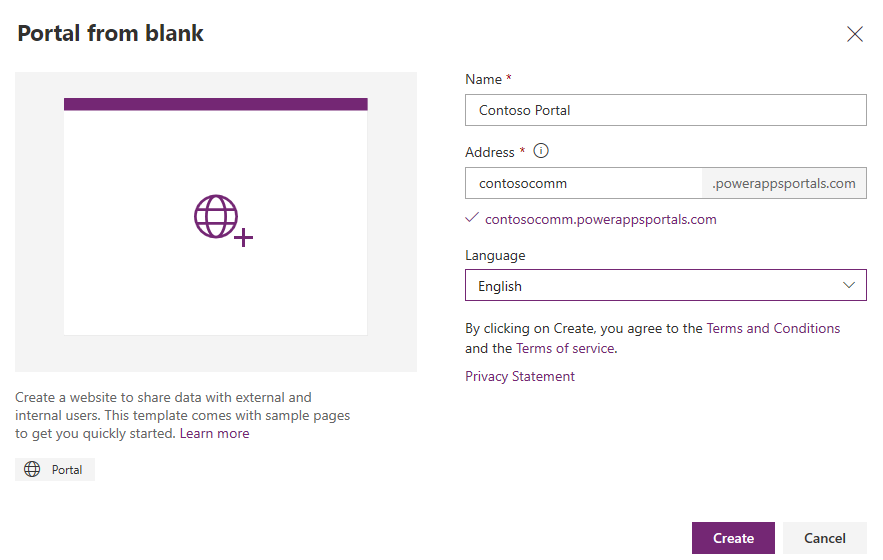 After you select Create, the portal will begin provisioning and the provisioning status is displayed through notifications.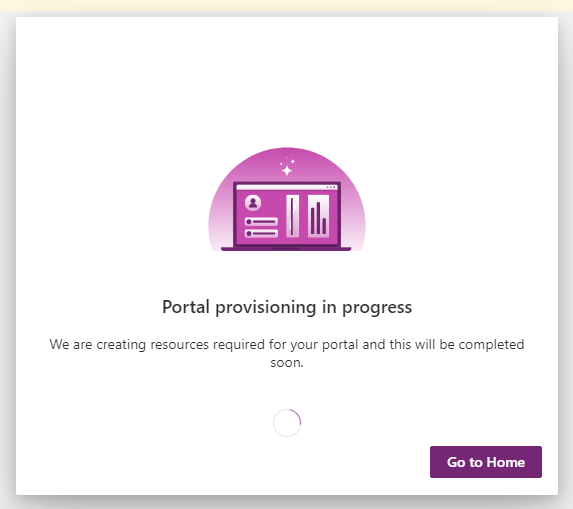 If you have created your portal in the environment that doesn't have portal pre-requisites installed, the provisioning status is also displayed in the grid:


After the portal is provisioned successfully, the status is updated and the portal is displayed in the grid:

Next, accept the terms of service. This may prompt you to enter your login credentials and grant permissions to the Portal application.
To edit the portal in Power Apps portals Studio, see Edit a portal.
Note
If you don't have sufficient privileges to provision a portal, an error is displayed. You must have the System Administrator role in Common Data Service to create a portal. You must also have the

Access Mode

set to

Read-Write

under

Client Access License (CAL) Information

in the user record.
If you have purchased an older portal add-on, and want to provision a portal using the add-on, you must go to the

Dynamics 365 Administration Center

page. More information:

Provision a portal using the older portal add-on
If you have provisioned a portal using the older portal add-on, you can still customize and manage it from

make.powerapps.com.
Provisioning portals from

make.powerapps.com

does not consume the older portal add-ons. Also, these portals are not listed under the

Applications

tab on the

Dynamics 365 Administration Center

page.
A Common Data Service starter portal cannot be created from the

Dynamics 365 Administration Center

page.
Power Apps portals is not available in the France region.
Then, once the portal setup is complete, the above message will be replaced with the default portal content, similar to below.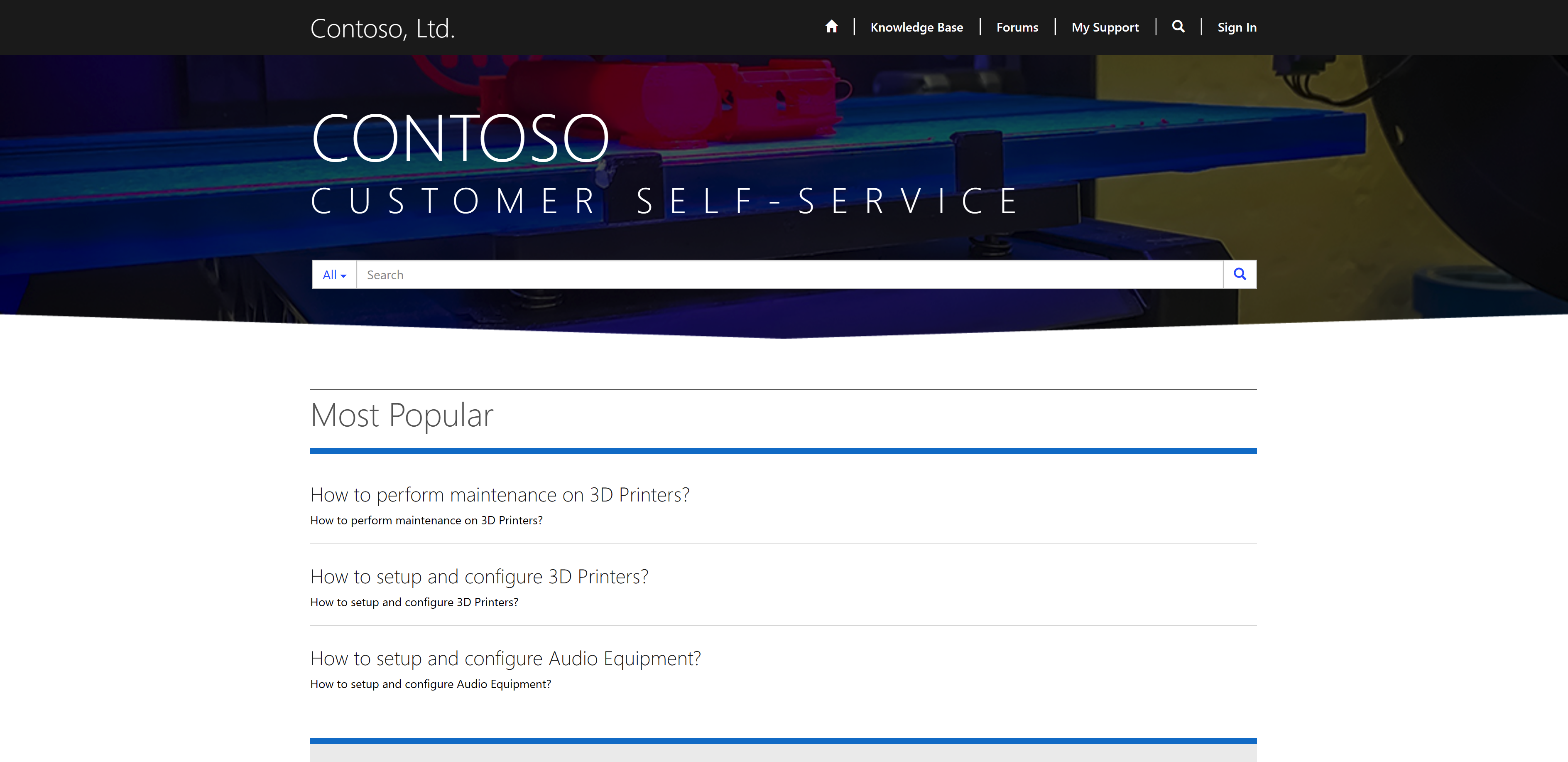 You'll likely want to customize this page with your own look and feel, but those steps are beyond the scope of this article. Once you're ready to put your portal in front of customers, they can use it to:
Create a profile
Access the knowledge base
Participate in forum discussions
Open a support ticket
Live Assist integrates with the knowledge base feature.
See: