When creating a new Organization, you need to begin a new trial before allocating your purchased Licenses to it.
Licenses can be purchased before or after the new organization is created.
Licenses are applied to the Tenancy; licenses can be transferred between organizations.
You purchase licenses at the Tenant Level.
If you have multiple organizations, you need to allocate the licenses to each organization.

For example, you may have development, UAT, and production organizations.

Allocate licenses to each organization through the Billing Portal.
The Billing Portal shows you:

How many licenses do you have available in total.
How many licenses are available to allocate to an organization.
How many licenses are allocated to each organization.
How many licenses are in use under each organization.

You can remove licenses from an Organization, and then allocate them to another.
It can take up to 5 minutes for any changes in the Billing Portal to be distributed to the Organization.
When the organization receives the licenses, you can apply these to users.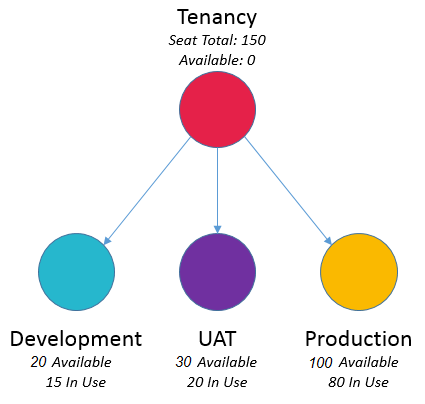 In this example, a tenancy has 150 seats allocated across three organizations. The tenancy has no more available licenses to allocate to an organization.
The Development organization has 20 licenses allocated and available to assign.

15 of them have been assigned to users.
The organization has 5 more left to assign to users.

The UAT organization has 30 available licenses.

20 have been assigned to users.
Meaning 10 are left to assign to users.

The Production organization has 100 licenses available to users.

80 have been assigned to users
Meaning there are 20 licenses left to allocate.
Your Billing Portal will look similar to this: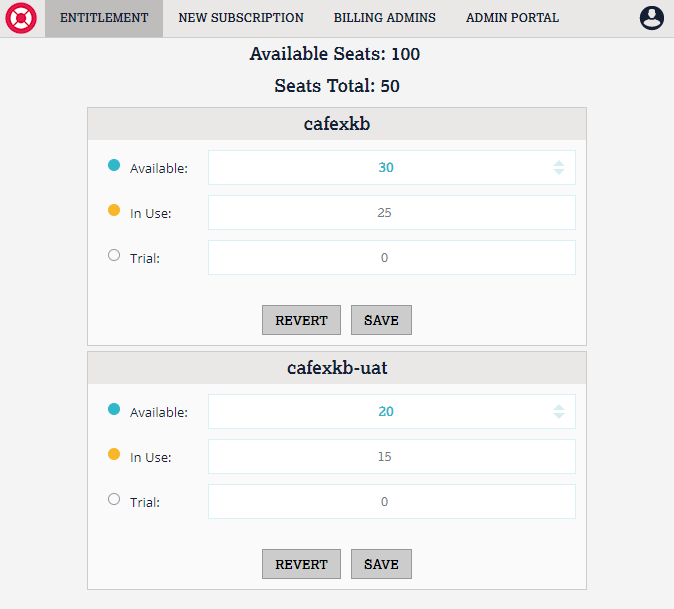 In this example, our tenancy has 100 licenses.
50 licenses are allocated across two organizations:
cafexkb has 30 licenses available
cafexkb-uat has 20 licenses available
For details on how to assign licenses to your organization, check out this article: How to Assign Live Assist Licenses to your Organization.
Assigning Licenses to Individual Agents
Once licenses have been applied to an organization, licenses can be allocated to individual agents in the Live Assist Admin portal. Further details can be found here.
Live Assist automatically uses the Microsoft Dynamics CRM main admin as the default Billing Admin. You can add additional Billing Admins to be used in place of the default.
To add a Billing Admins:
Click on Billing Admins.
Enter the Microsoft Dynamics 365 account email address
(for example, user@example.onmicrosoft.com)
Click Submit.

A message is displayed, confirming that the Billing Admin is set up.

To delete an existing Billing Admin.
Click on Billing Admins.
In the displayed list of Existing Billing Admins, click the Remove button for the email address of the Billing Admin that you want to delete.


Note: You cannot delete the last Billing Admin for your organization—create a new one first.



Click Yes to confirm the deletion.
Important: The tenant admin cannot be removed as a Billing Admin.
If you wish to remove or change your Tenant Admin you must:
Create an alternative Billing Admin
Contact Support, with your request providing the following:

Your Microsoft Dynamics Organization ID
The email address of your existing Tenant Admin
The email address of the new Billing Admin you wish to make the new Tenant Admin
Note: If you update the Tenant Admin it is no longer necessary for the new Tenant Admin to be a Microsoft Dynamics 365 System Administrator.