Use Case
Customer Service Agents (CSAs) in today's Call Centers require integrated tools to help them assist the end customers. This enables them to drive up customer satisfaction, whilst at the same time driving efficiency gains into the Call Center. A CSA who is supporting a customer on a phone call can often significantly reduce their Average Call Handling Time (AHT) if they can see for themselves the problem that the customer is having on a webpage or mobile application. By being able to see and interact with the customer's view, without requiring any downloads or plug-ins by the customer, the CSA can direct the customer to the quickest resolution.
Utilizing the co-browse-only functionality in Live Assist for Dynamics 365, a CSA who is on a phone call with a customer can easily direct the customer to the co-browse option. They then exchange a unique code with the customer to enable the CSA to co-browse with the customer, speeding up the time taken on the phone call and increasing customer satisfaction.
Enabling Shortcode Co-browse
All newly created organizations with the April 2018 Release (v3.7.0) will be granted access to the shortcode co-browse feature.  Existing organizations will need to Contact Support to request that the feature is enabled.
Using Shortcode Co-browse
To enable shortcode co-browse functionality on your website, complete the following:
Add the Live Assist for Dynamics 365 shortcode tag to your web pages.
The shortcode co-browse tag is available from your Live Assist for Dynamics 365 Admin Portal.
Provide a button or link for the visitor to click to invoke the code.
You need to provide an implementation to display a shortcode for the visitor to read to their CSA.
For an example, see Shortcode Co-Browse API.
When the website visitor clicks on your button or link, they are displayed the shortcode to read out to the CSA: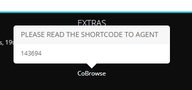 The CSA, enabled with Live Assist for Dynamics 365, engages with the customer in a co-browse session from within their Live Assist for Dynamics 365 agent console. The Live Assist for Dynamics 365 widget contains a Co-browse Launch button that displays a text box to enter in the shortcode. The CSA enters the shortcode, and clicks on Start to commence the co-browse: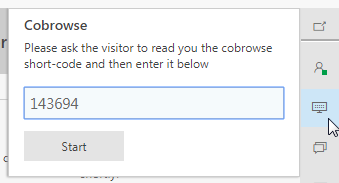 Example Phone Call
See the following example phone call for how an agent can use this feature to assist visitors:
Visitor
Customer Service Agent
"I'm having trouble on the billing page."
 
 
"OK, can I share your screen? Click on Co-browse and read the short code to me."

"The code is '143694'."

 
 

(Enters shortcode that visitor reads out.)

"I've found you. I can now see your screen."

"That's great. So how do I add a new credit card?"
 
 
"You can click here (agent shows the visitor where to click, using the co-browse), and do this..."