To enable this feature and steps to implement it, see: Shortcode Co-browse.
When the website visitor clicks on your button or link, they are displayed the shortcode to read out to the Agent:


The Agent, enabled with Live Assist for Dynamics 365, engages with the visitor in a co-browse session from within their Live Assist for Dynamics 365 agent console. The Live Assist for Dynamics 365 widget contains a Co-browse Launch button that displays a text box to enter in the shortcode. The Agent enters the shortcode, and clicks on Start to commence the co-browse: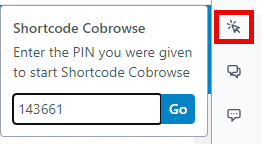 Example Phone Call
See the following example phone call for how an agent can use this feature to assist visitors:
Visitor
Agent
"I'm having trouble on the billing page."
"OK, can I share your screen? Click on Co-browse and read the short code to me."

"The code is '143694'."

(Enters shortcode that visitor reads out.)

"I've found you. I can now see your screen."

"That's great. So how do I add a new credit card?"
"You can click here (agent shows the visitor where to click, using the co-browse), and do this..."