Because of its widespread popularity, WhatsApp is now an excellent channel for businesses to use. The WhatsApp Business connector allows brands to communicate with consumers using their favorite messaging channel. With Live Assist Messaging, brands have access to the premier enterprise messaging platform for effectively managing WhatsApp conversations at scale.
The following instructions will guide you through connecting WhatsApp Business to Live Assist Messaging.
Note:
❖ You must have a verified Meta Business. To learn more about business verification click here. In case your business is not yet verified you can only send test messages in a 30-day trial experience to a limited range of numbers.
❖ Your Meta Business must have a valid website address set under Business Info, Business Details.
1. On the Engagement Portal, connect your account to WhatsApp via the Management Console located in the left navigation bar. Search for the term "WhatsApp" or "WhatsApp Business", then once you get to the WhatsApp onboarding page, click on Proceed to configure.


2. Click on the Add New Number button and follow the embedded sign-up process.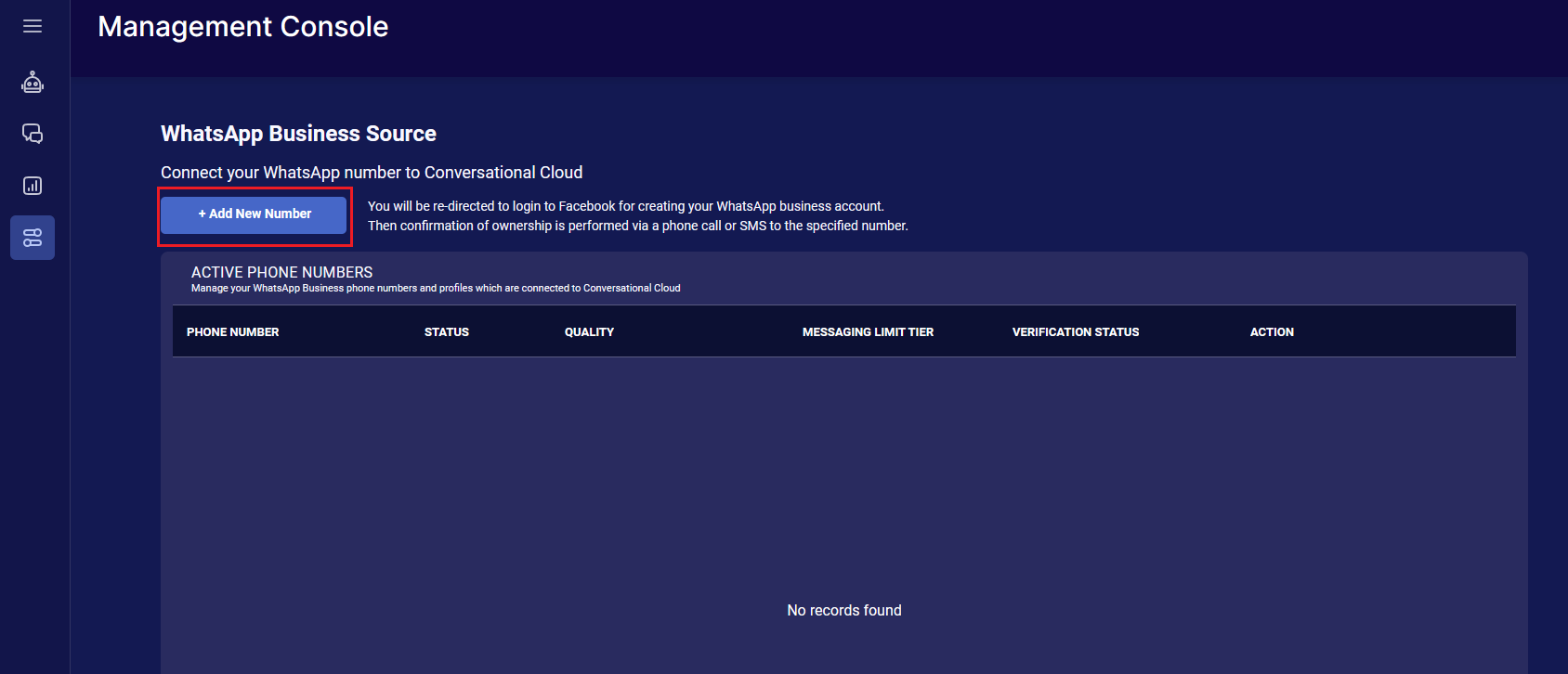 3. First, log in to your Meta Business account.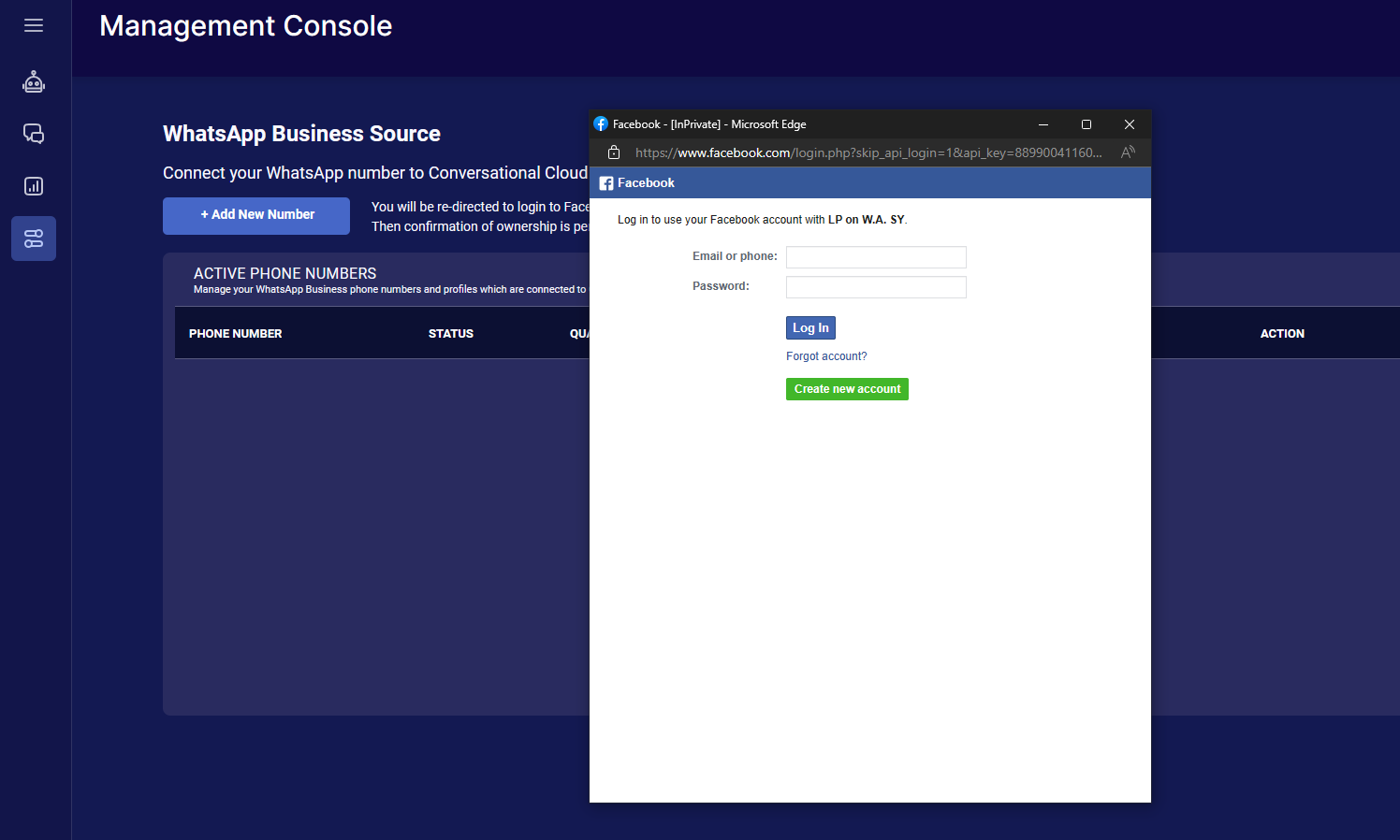 4. If you are already logged in, a window will pop up or a new tab will open asking if you would like to "Continue as <your name>?". Click this option to proceed.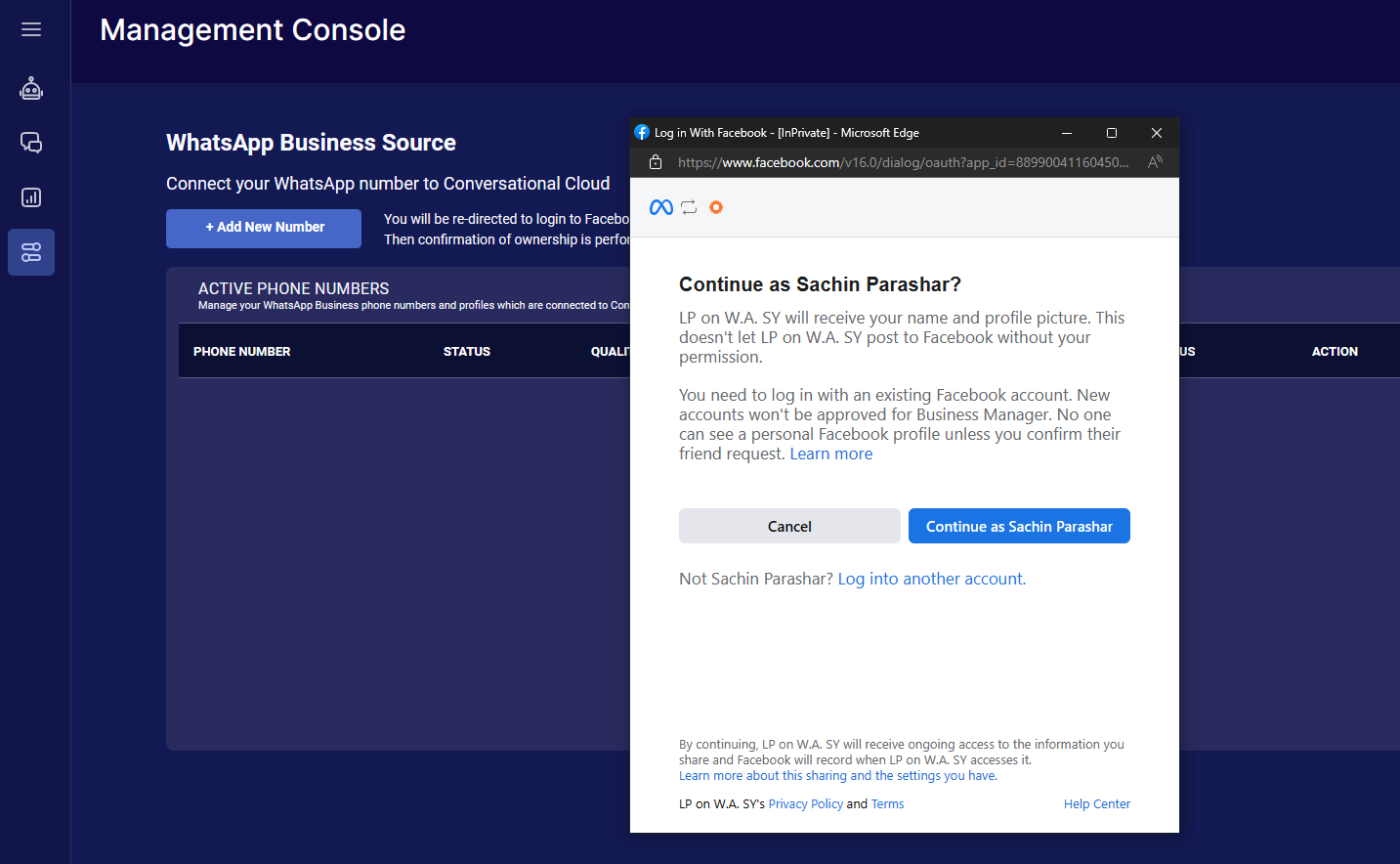 5. Register and connect your WhatsApp Business Account. Click on the Get Started button to start the registration process.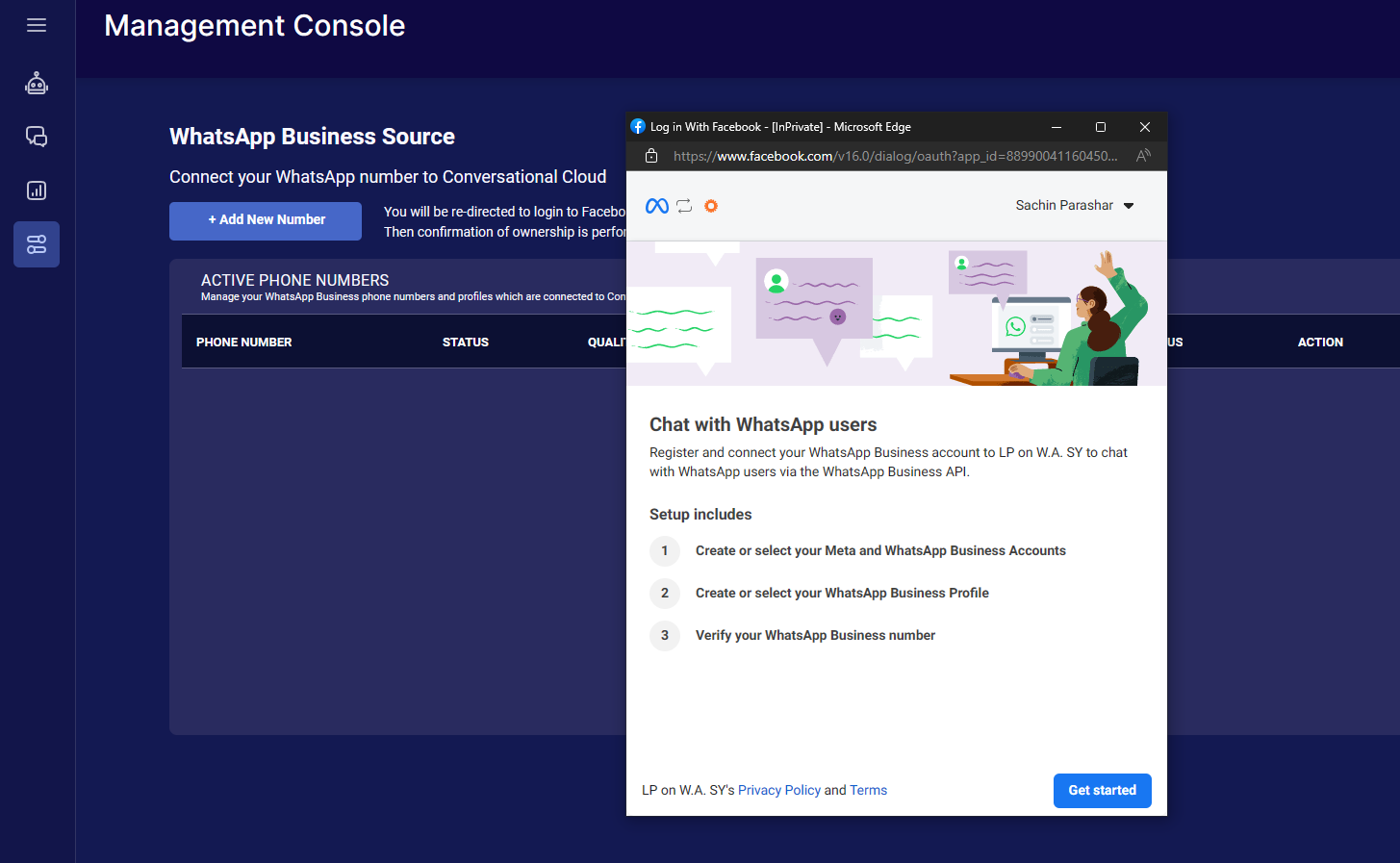 6. Verify the Terms of Service and then click Continue to proceed.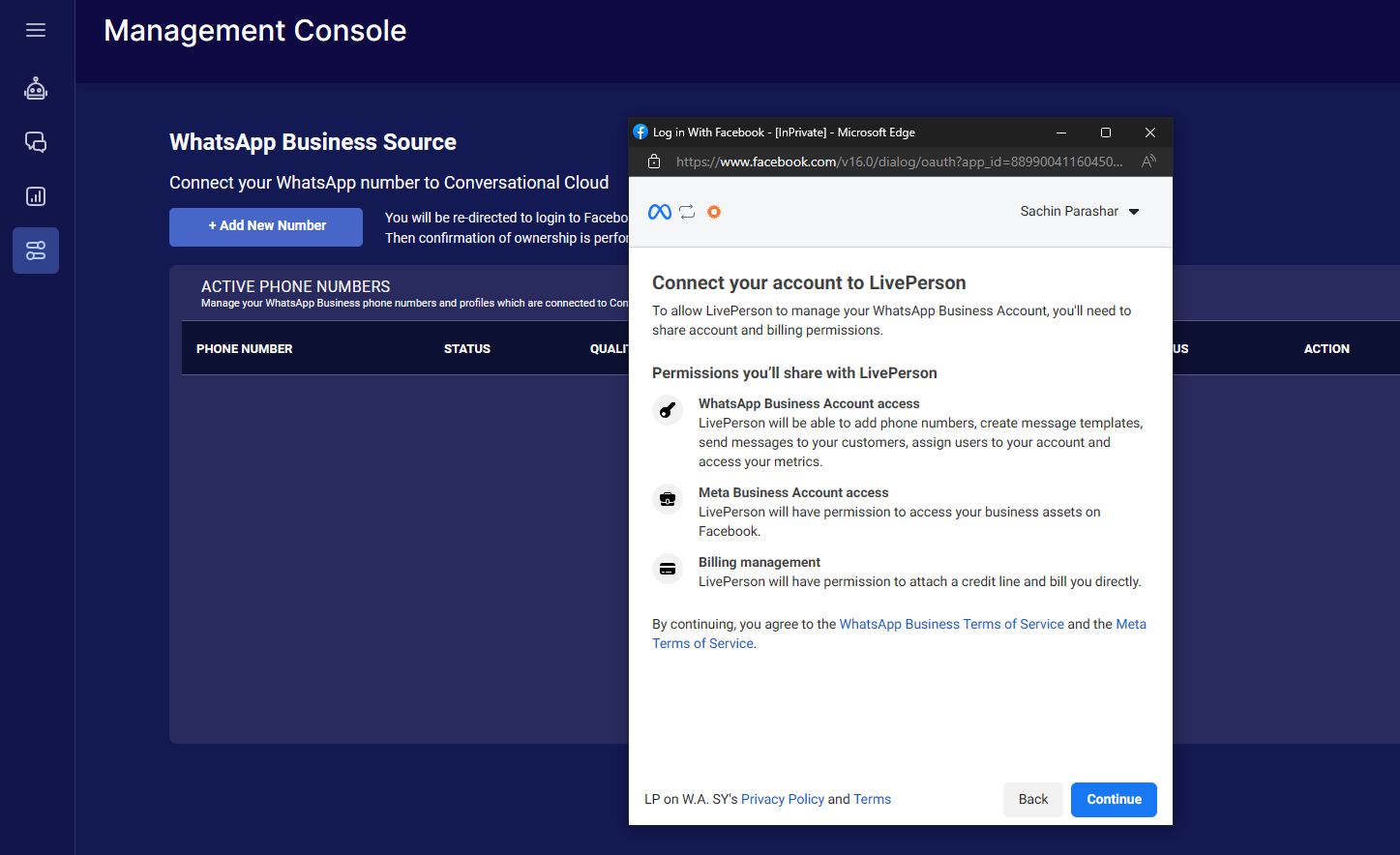 7. Complete your business information and then click Next.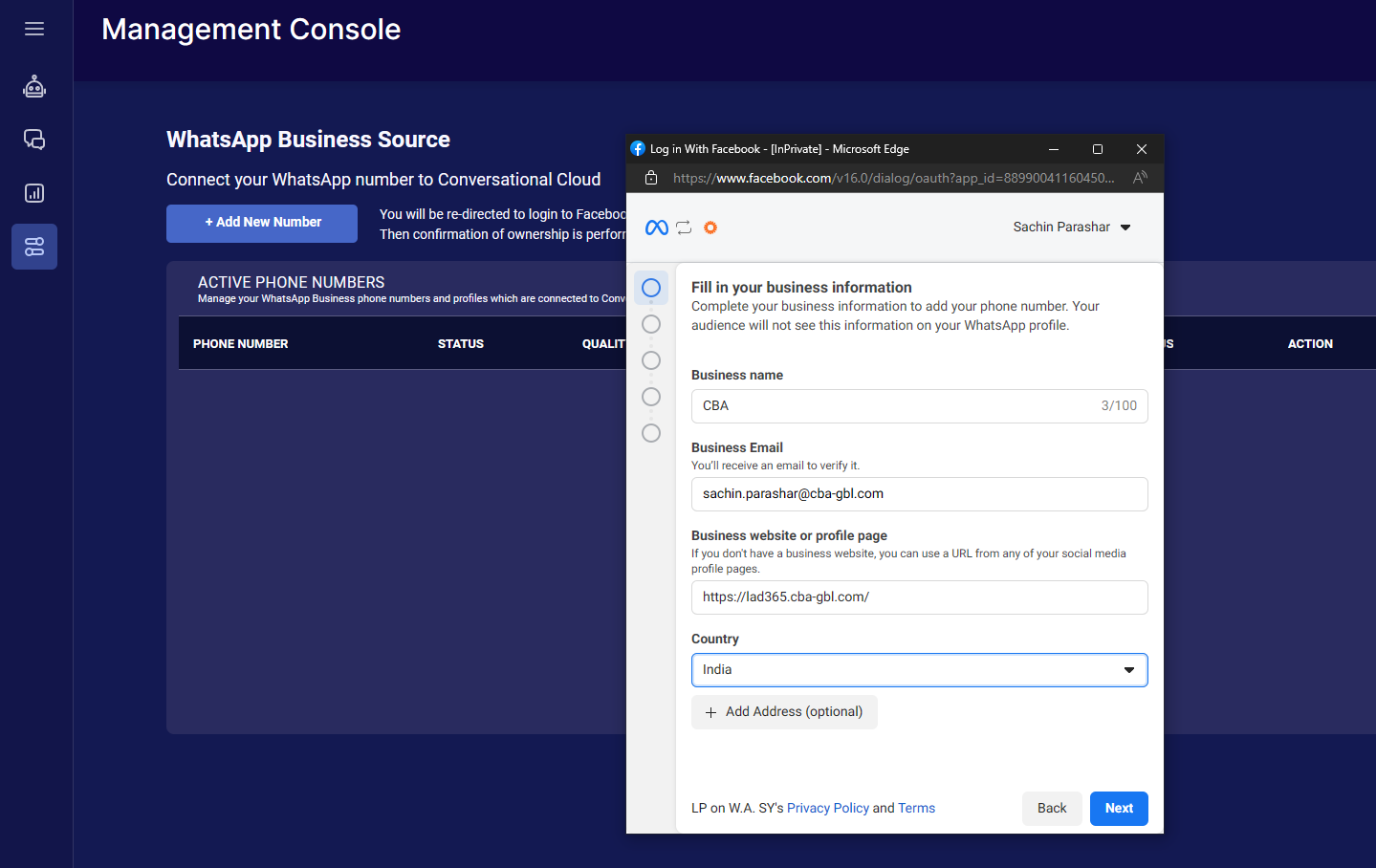 8. You will need to create a new or select an existing WhatsApp Business Account and Profile. Once selected, click Next.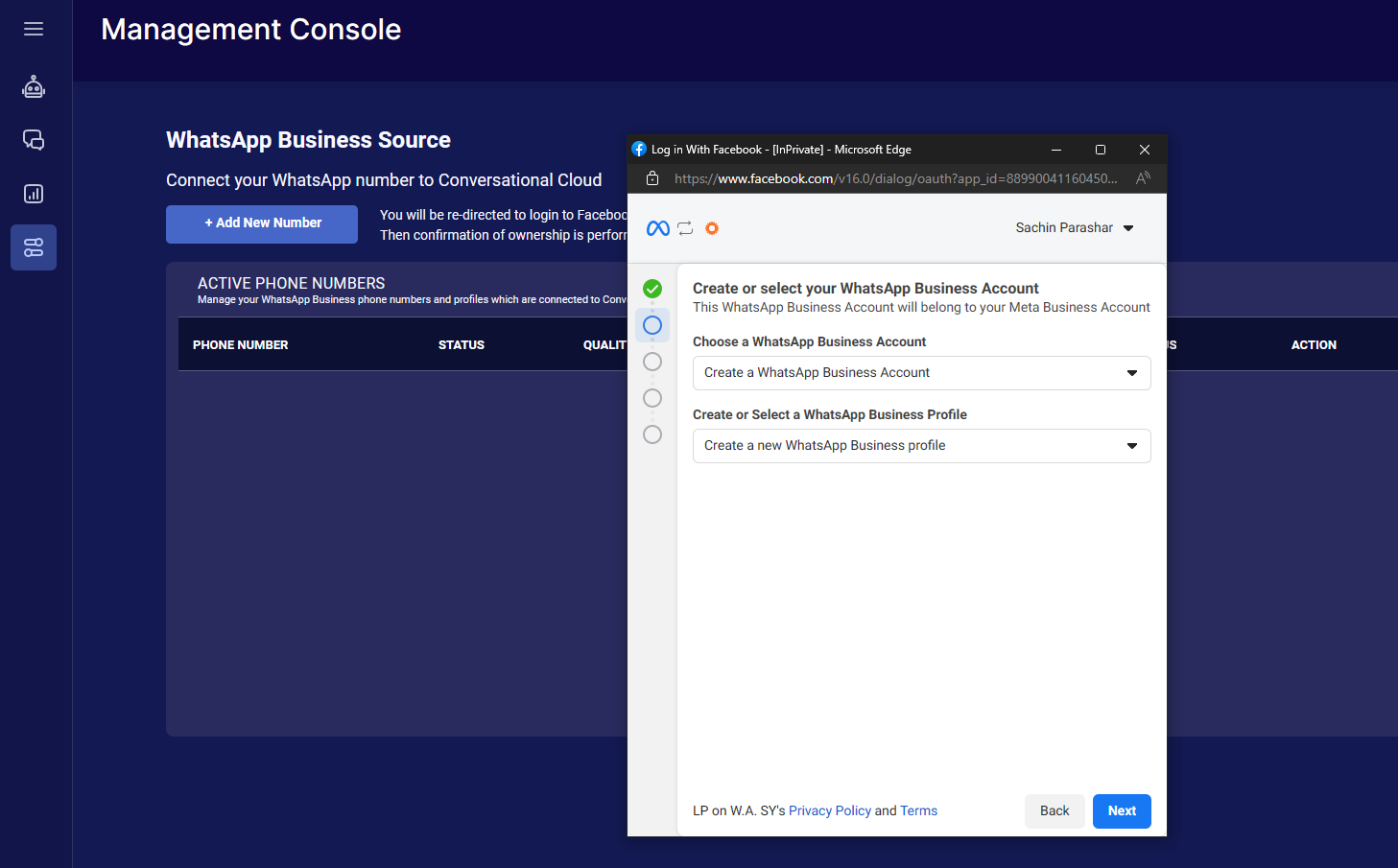 9. Fill up the form to create a WhatsApp Business profile and then hit the Next button.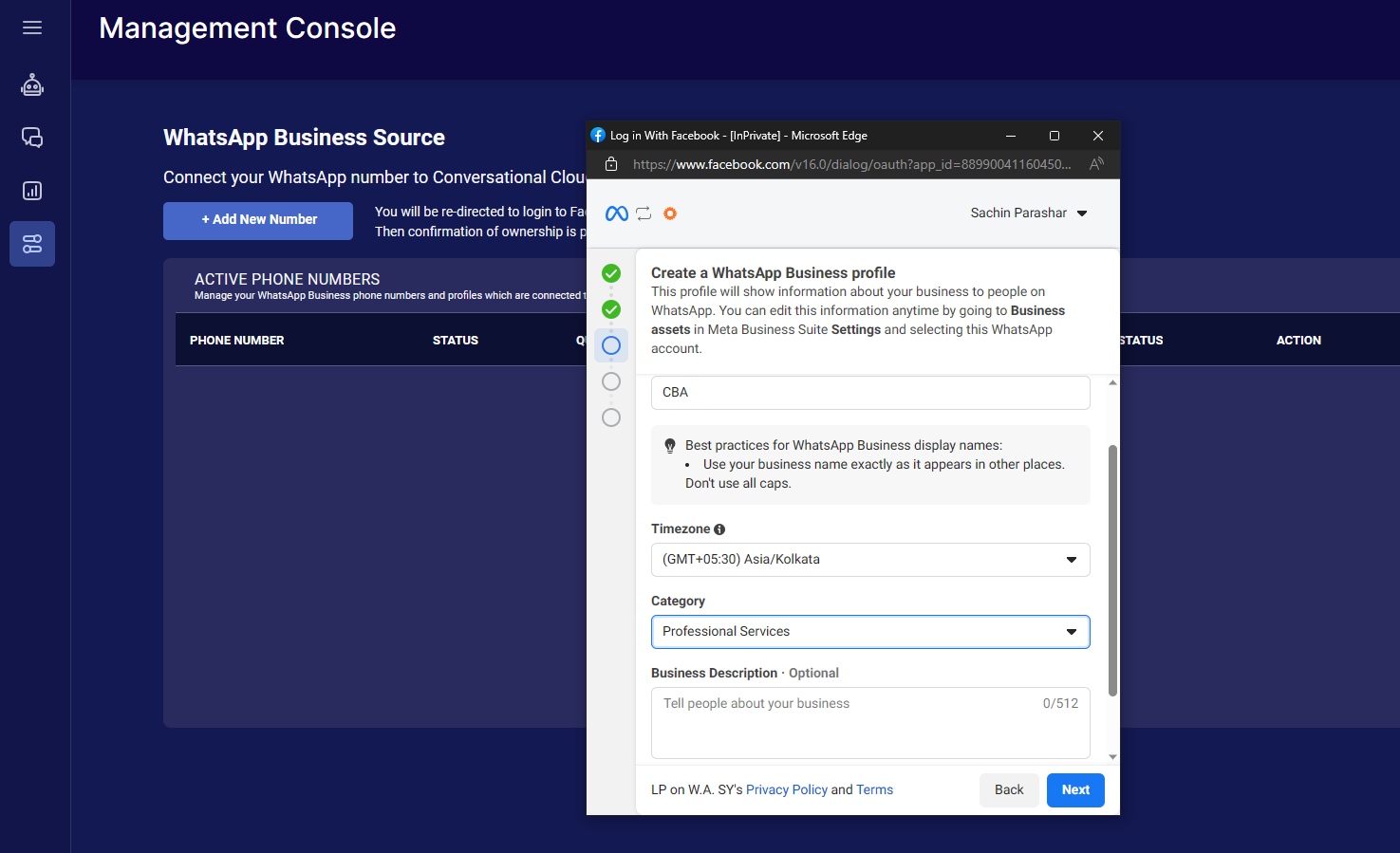 10. Register a phone number for WhatsApp. Choose how you will verify this number either via Text message or via Phone call. Click Next to proceed.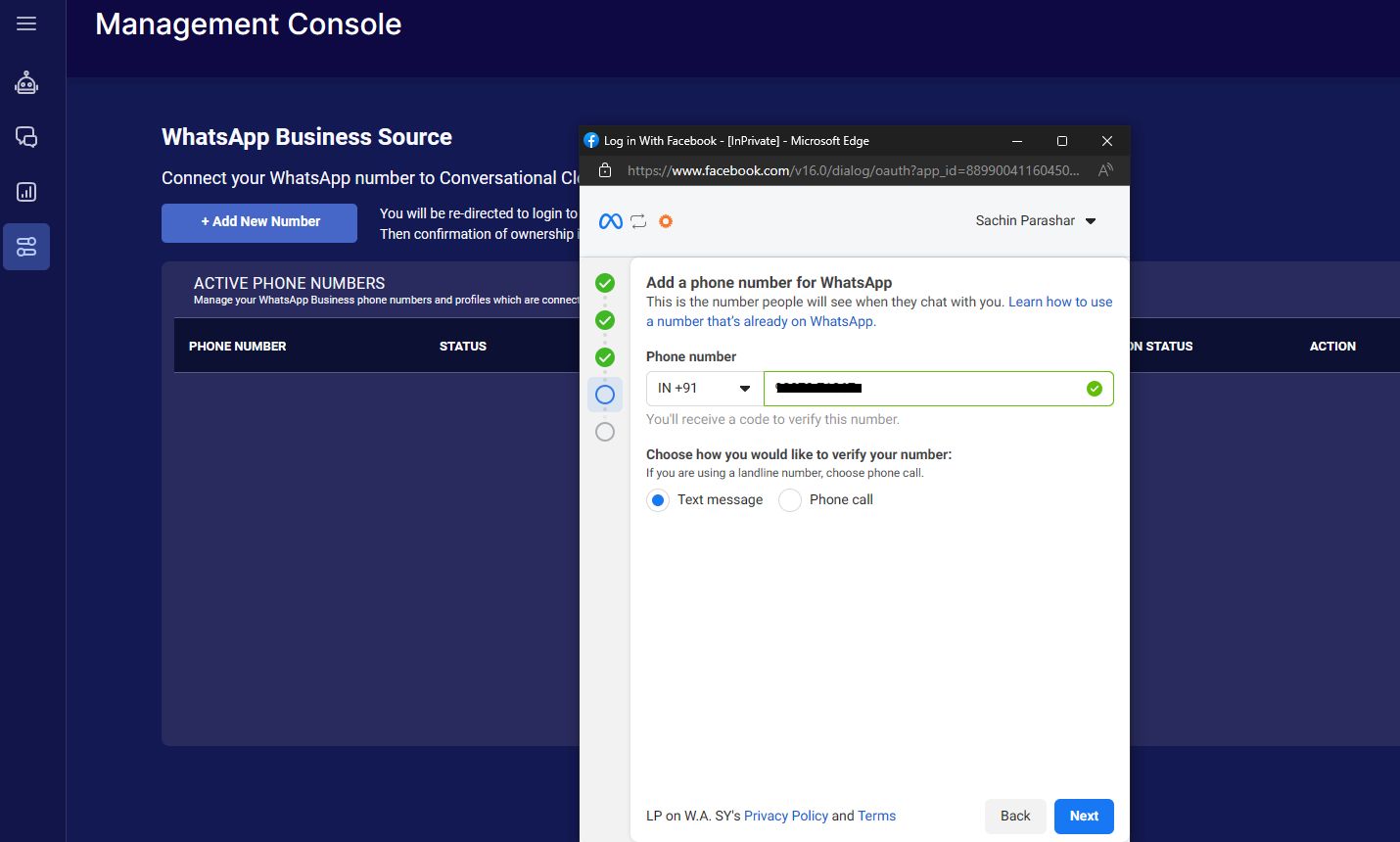 11. If the verification method is via Text message, enter the code sent to the phone number and then choose Next.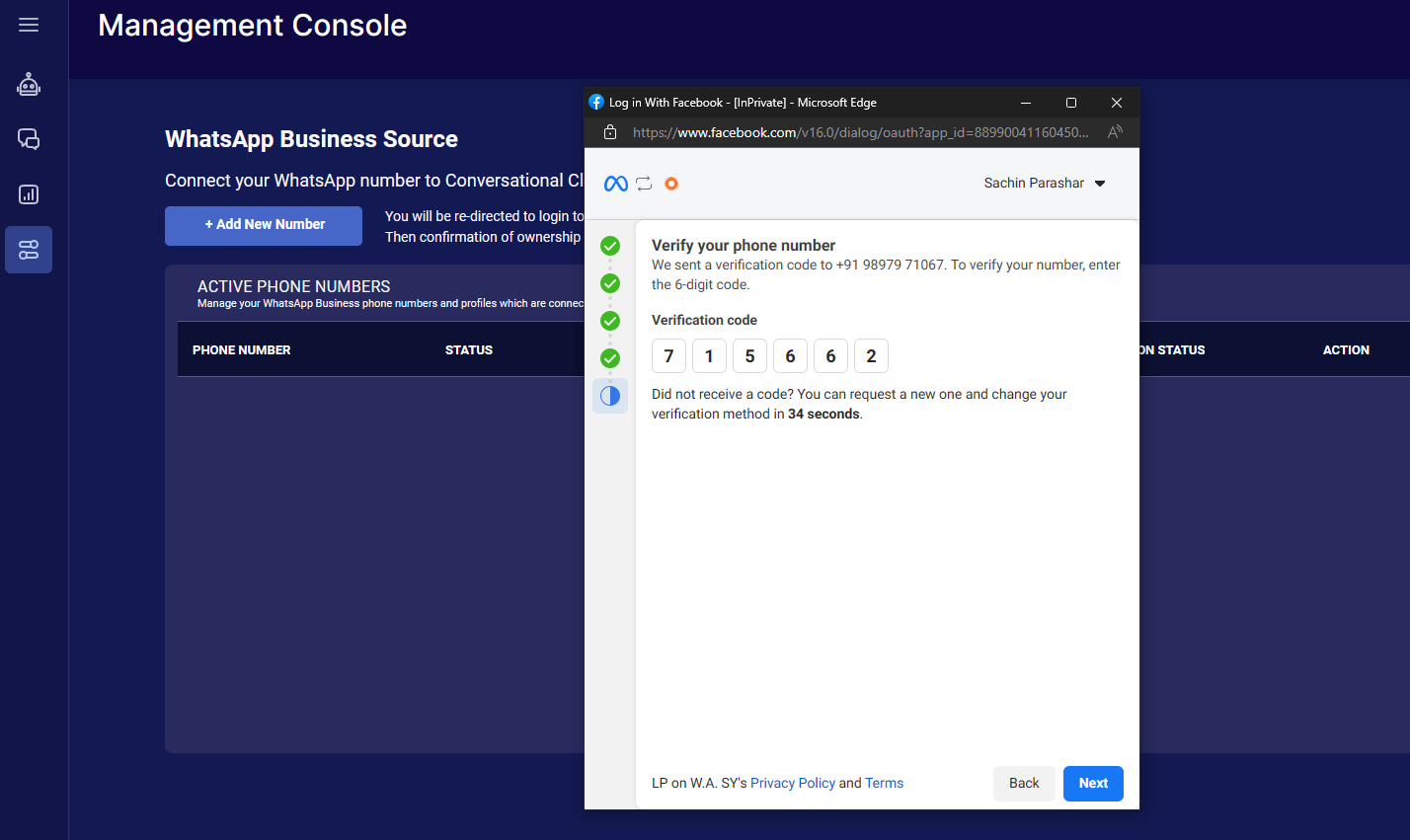 12. Click Finish to complete the registration of the WhatsApp Business account.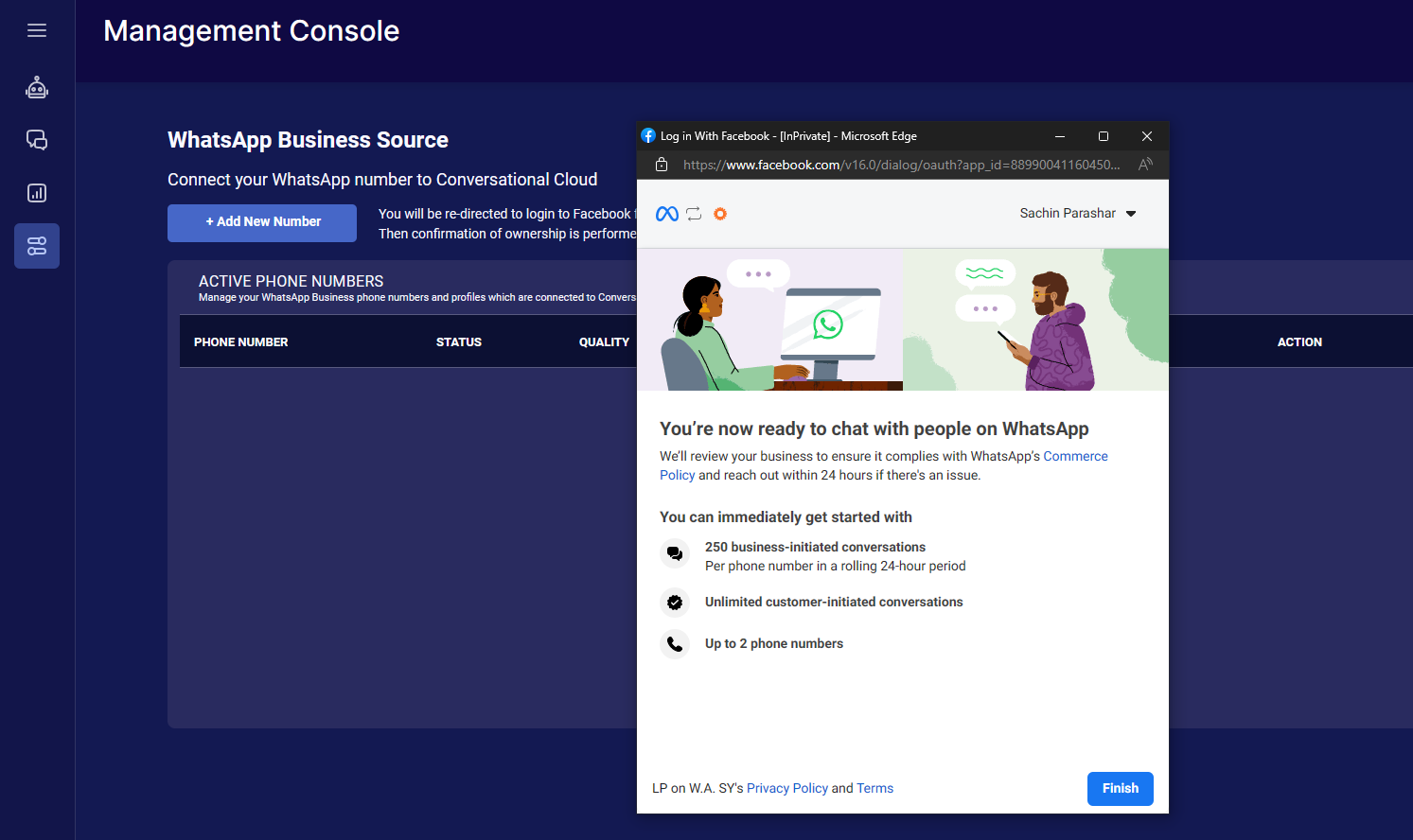 13. Once the process is complete and the pop-up closes, a dialog will appear that asks you to confirm the phone number and select your main language for the account. Click on Next to finish the setup.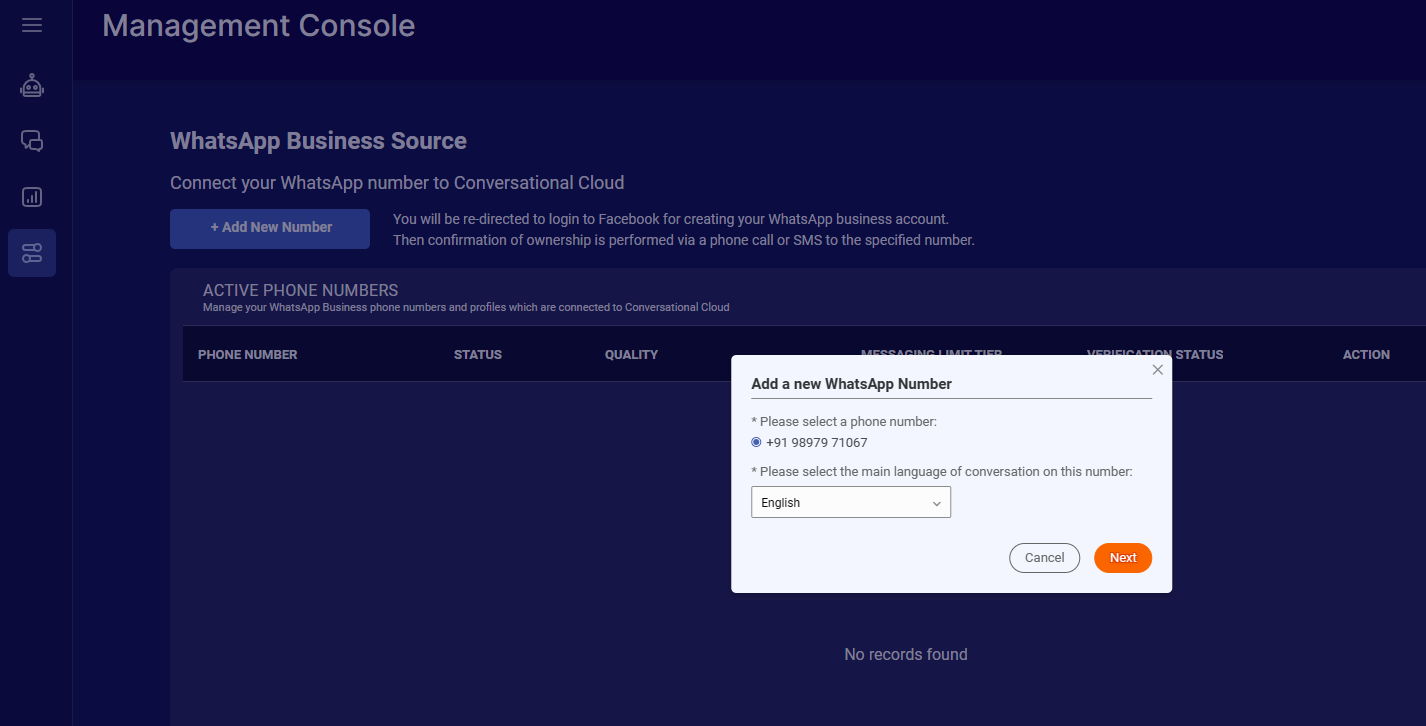 14. A notification will be displayed that the onboarding process is successfully completed. Click Done to proceed.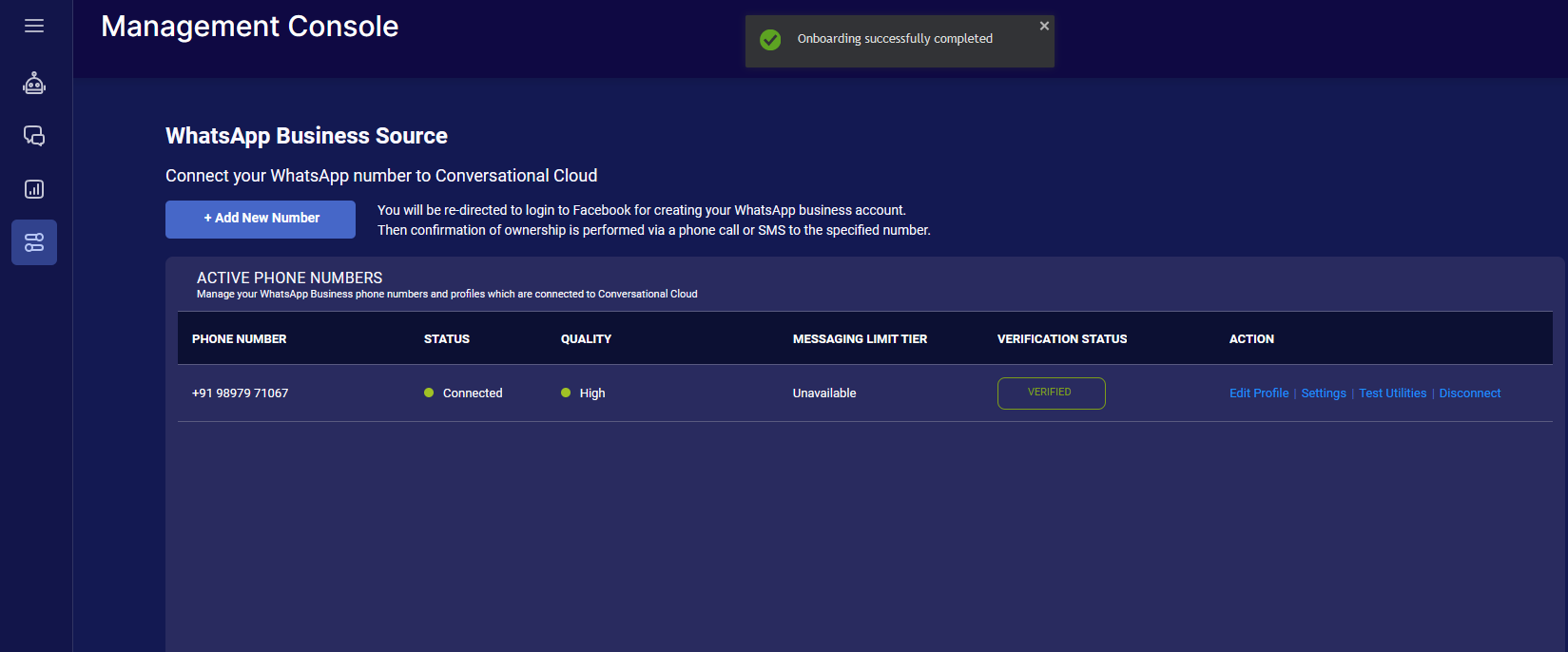 Note:
❖ If an error does occur while onboarding your number, try refreshing the page.
❖ If you still cannot see your phone number in the list, the reason could be that your Whatsapp business profile or display name is not yet verified. This can occur when a number is selected to undergo a manual verification process with the WhatsApp Business Team. In this case, you will receive an email regarding the request approval after approximately 6 hours.
15. The status of the WhatsApp Business integration will be changed to Active. You can now test the setup by sending a WhatsApp message to the WhatsApp number that you connected to Live Assist. When the message shows up in the Live Assist Messaging Agent widget, you can respond as an agent and see the response in the WhatsApp App.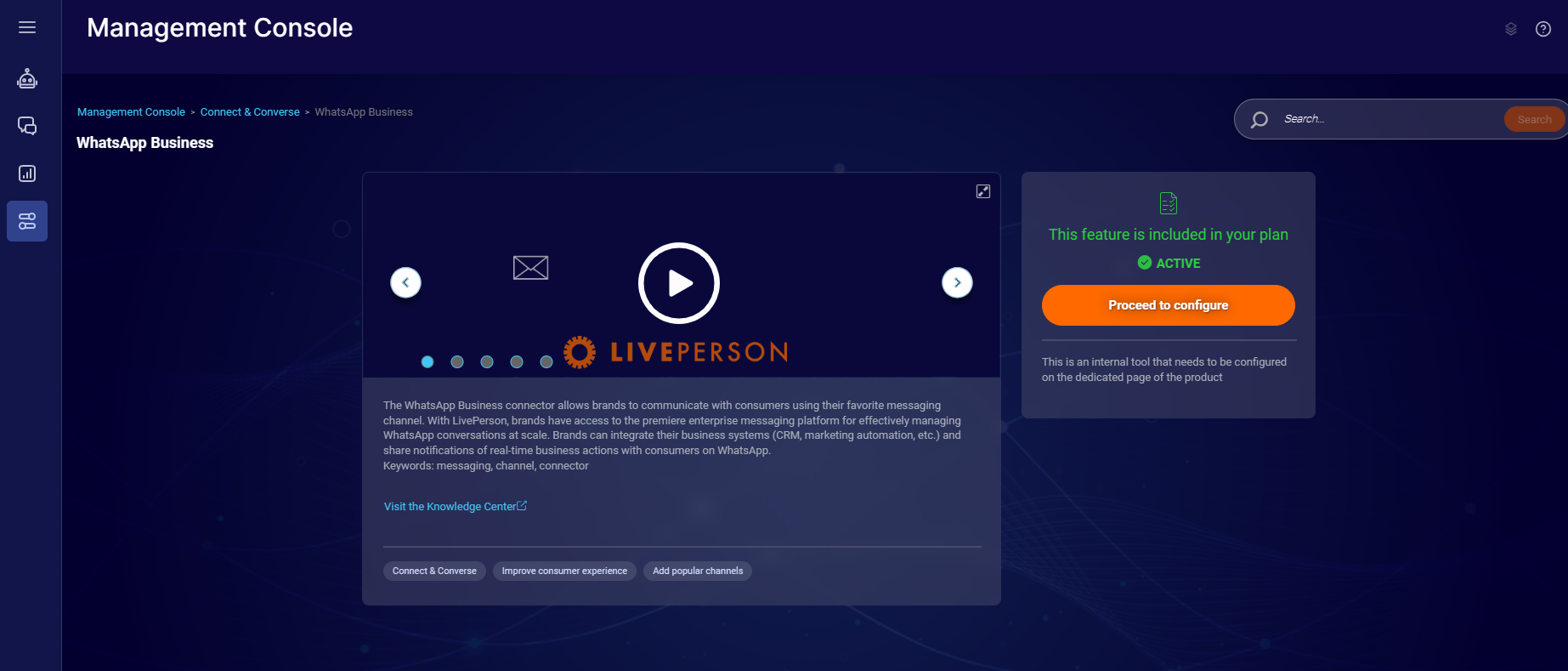 Consumer's View of Conversation from a WhatsApp Application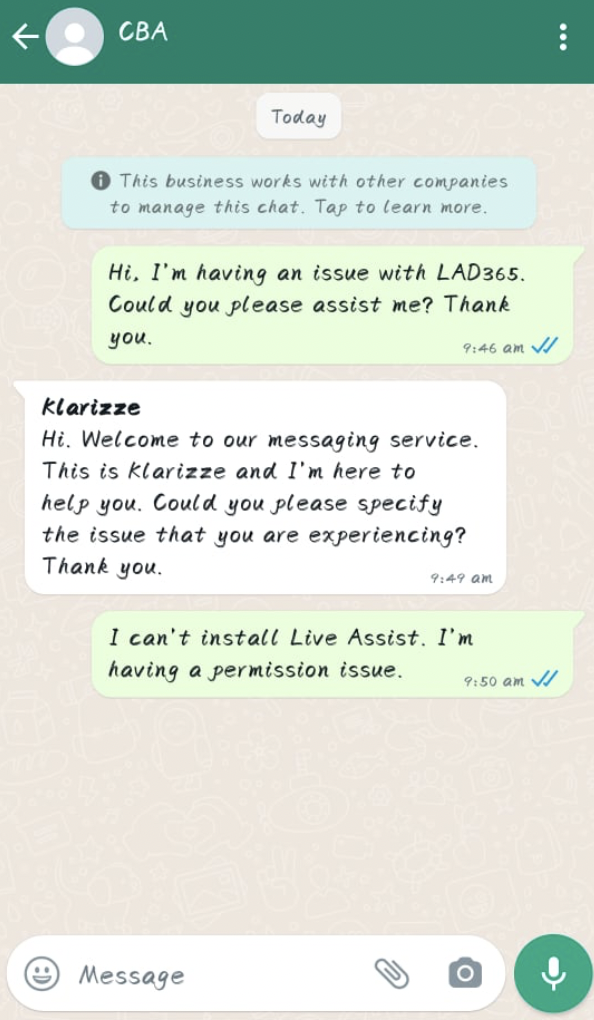 Agent's View of Conversation from Live Assist Messaging Agent Widget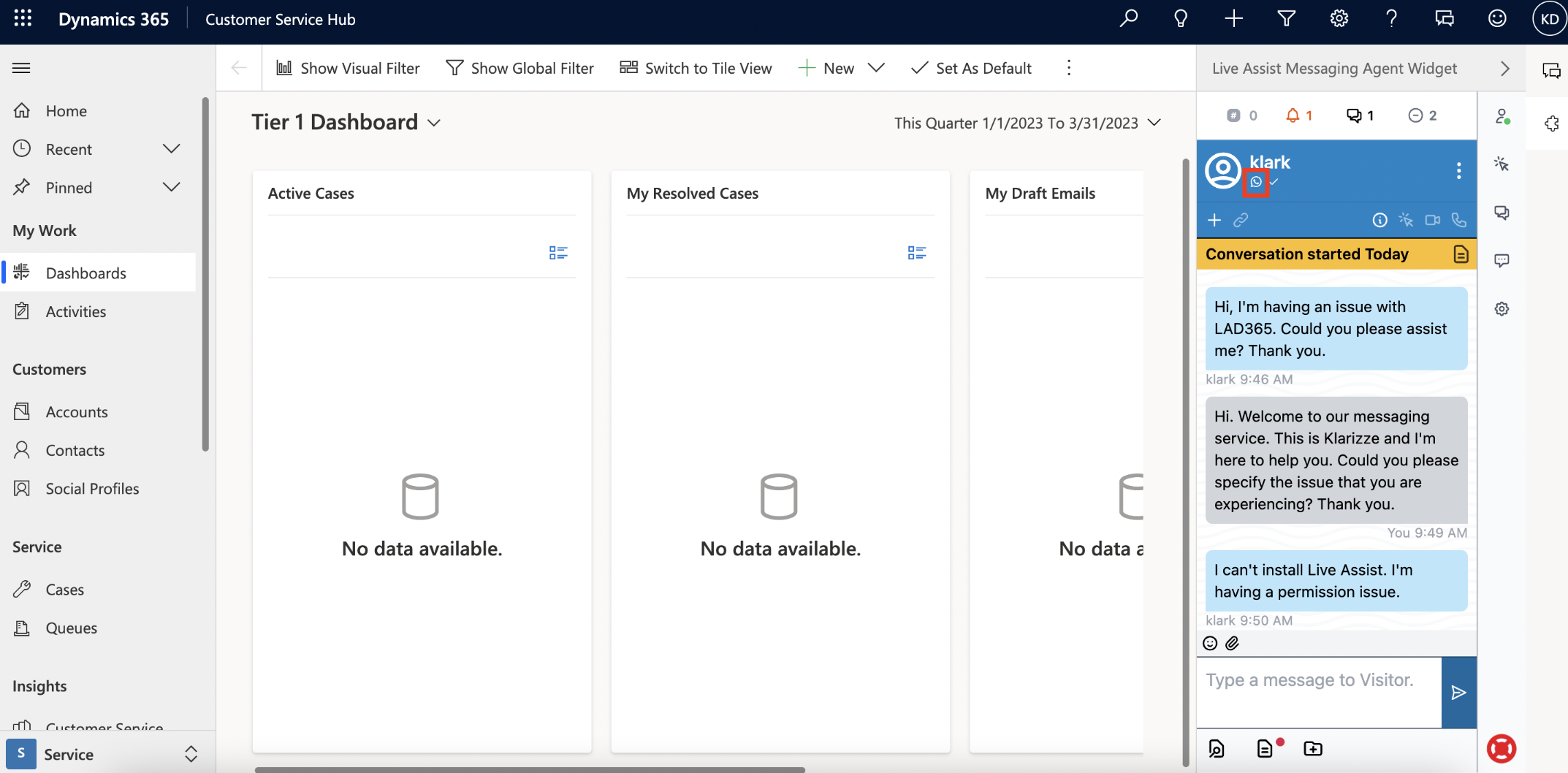 Note:
❖ You can only send messages to a limited range of numbers until your Meta Business, Whatsapp Business Account, and display name have been approved.
❖ You can review the status of the WhatsApp Business account and the display name when you hover over the phone number entry in the table.
❖ To review the status of the Meta Business verification, please log in to the Meta Business Manager. In case your Meta Business, WhatsApp Business Account, or display name is not approved after the 30-day trial period, the number will stop working and will be disconnected from your Live Assist account.