We are pleased to announce that our strategic partnership with LivePerson has enabled us to add a number of new features and services to our product roadmap!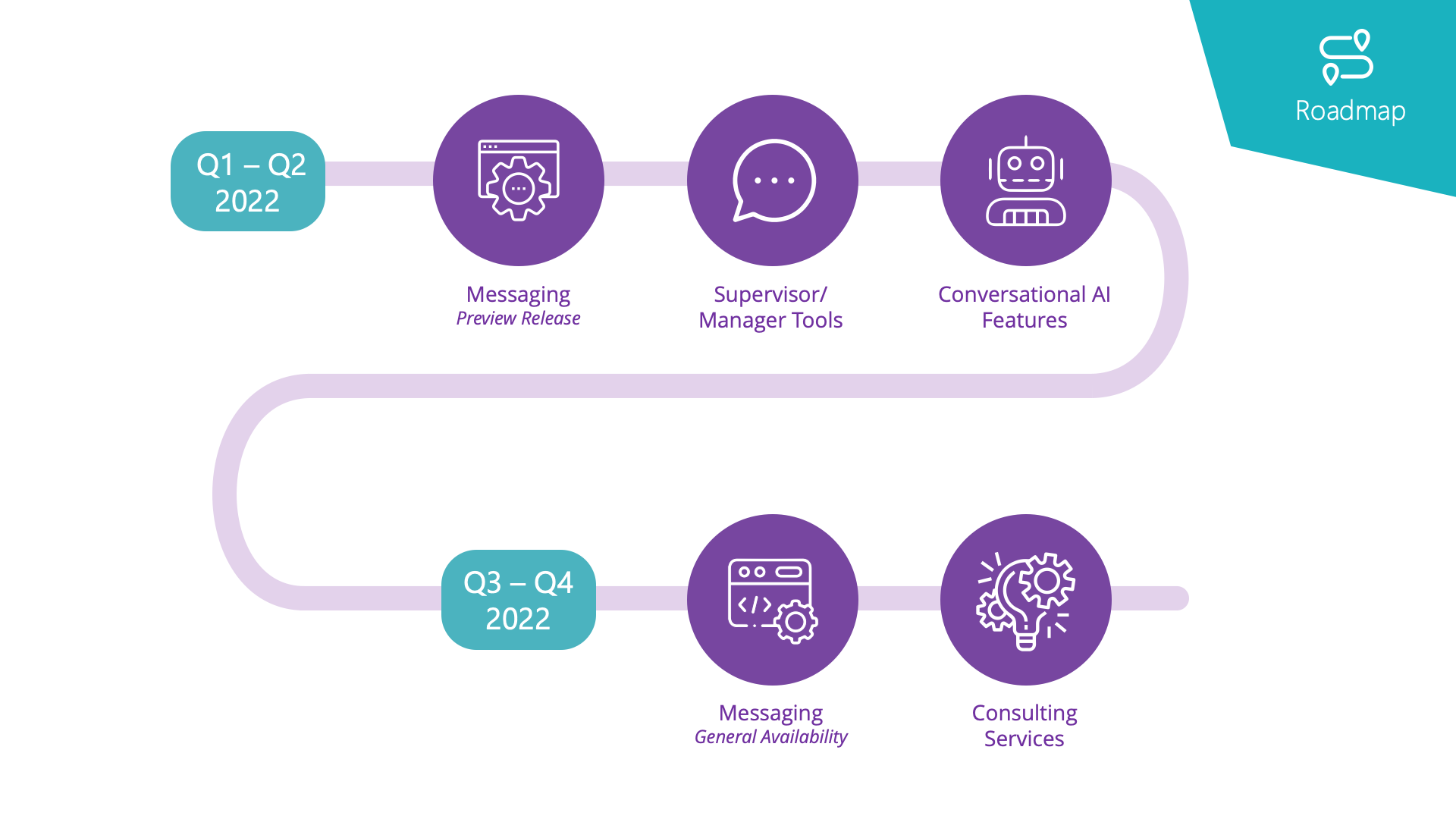 ---
What is being work on in Q4?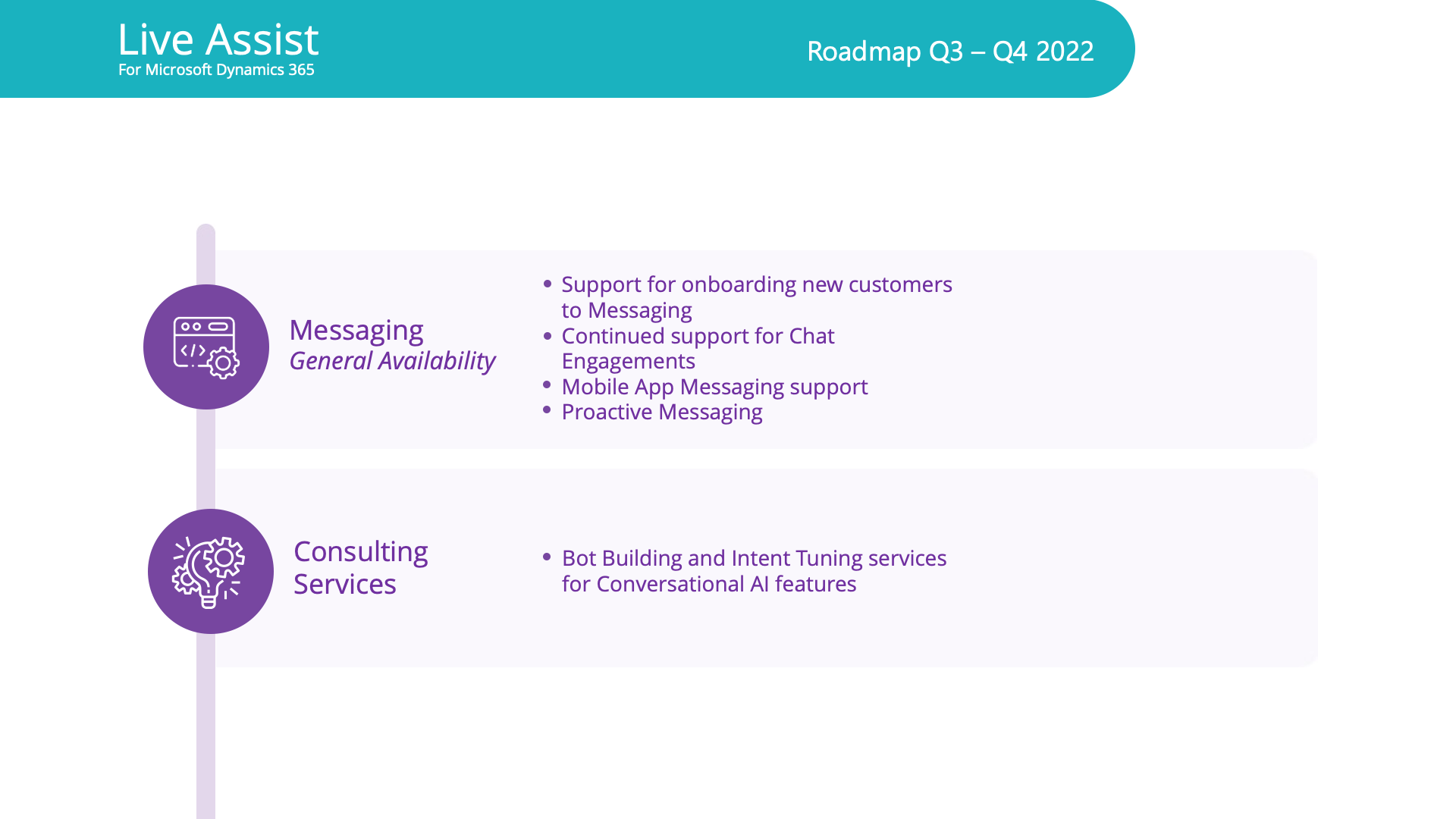 Messaging & Conversational AI - General Availability - Starting 30th November 2022
Our new Agent Widget for Messaging along with Messaging engagements for all channels* will be available for existing customers and new customers/trial users of the new Messaging platform
Social connect support will be generally available to customers on the new Messaging platform
Conversation Builder bots will be generally available to customers on the new Messaging platform
Intent manager will be generally available to customers on the new Messaging platform
We will continue to support customers who use Chat engagements and the Chat widget
Messaging engagements are now supported by our iOS and Android mobile SDKs


*The outbound Proactive Messaging feature is still being tested
Consulting Services - Available Q4 2022
We have a professional team of experienced bot builders and intent tuners that are available to help make your bot and AI project successful - please reach out to our sales team for more info
---
What was delivered in Q1 & Q2?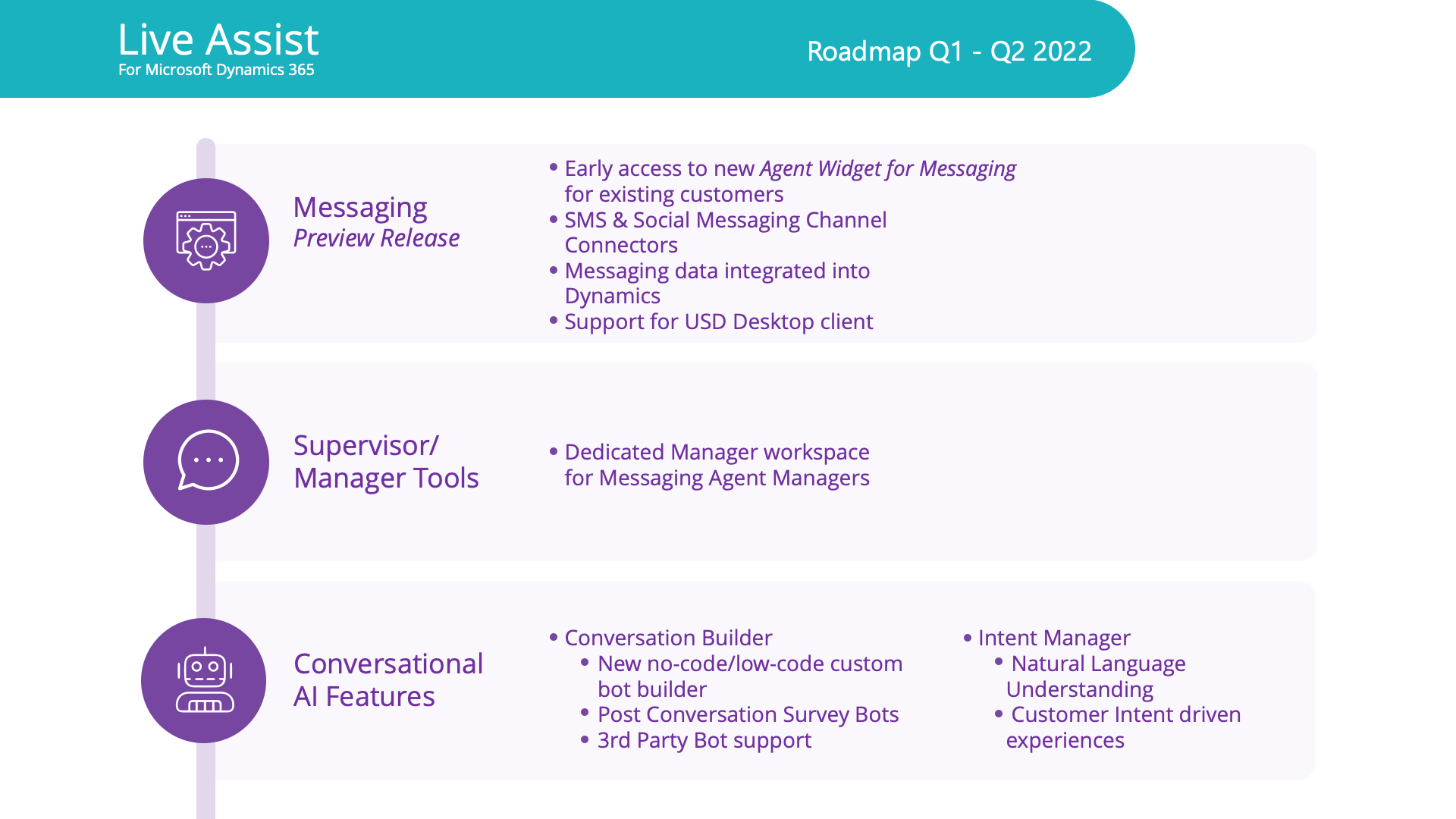 Messaging Preview Release - Delivered Q2!
Early access to our new Agent Widget for Messaging for existing customers

A new embedded Dynamics 365 widget for Web Messaging (

What is Messaging?

)

Support for asynchronous, resumable conversations

SMS & Social Messaging Channel Connectors*

Integrate popular 3

rd

party channels like Twilio SMS, FB Messenger, Instagram, Twitter, WhatsApp and more

Agent side indicators to differentiate messaging channels

Messaging data integrated into Dynamics

Conversation history and metadata stored in your own Dynamics 365 environment

Support for USD Desktop client

Embedded Agent Widget for Messaging, compatible with Unified Service Desk (USD)
* Certain channels, like SMS, may incur 3rd party usage fees.
New Supervisor/Manager tools - Delivered Q2!
A dedicated Manager workspace for Messaging Agent Managers

Actively supervise key metrics like Queue length, CSAT levels and Agent utilization/efficiency in real time

Join conversations, transfer to another skill or close as needed

Search, filter and view current and previous conversations
Conversational AI Features - Delivered Q2!
Conversation Builder

Create your own bots using an interactive no-code/low-code dialog builder (What is Conversation Builder?)

Select from a library of pre-built, industry specific automations

Create intelligent pre conversation surveys

Track and monitor bots just like any other agent

Post Conversation Survey Bots

Predefined interactions for capturing the standard survey metrics like NPS, CSAT and FCR

Create closed-ended and open-ended questions to gather feedback on custom metrics

Store survey results in your own Dynamics environment

3rd Party Bot support

Provision

and enable Bots from other vendors like IBM Watson, Google

Dialogflow

, Amazon Lex and Microsoft Bot Framework
Intent Manager

Natural Language Understanding

Understand and recognise consumer needs using Artificial Intelligence (AI) and Machine Learning (ML)
Train NLU models to detect and classify intention live during customer conversations

Customer Intent driven experiences (What are Intents?)

Dynamically route to the most effective agent for a given intent
Build the right automations to enhance customer experience
---
Safe Harbor
Our roadmap is intended as an outline of our general product direction and so does not represent a commitment to product feature delivery.

The development, release and timing of any features or functionality described remain at the sole discretion of CBA and are subject to change.