What is Conversation Builder?
Our partnership with Live Person has enabled us to add an interactive no-code/low-code dialog builder called Conversation Builder for use with your Messaging and Chat engagements.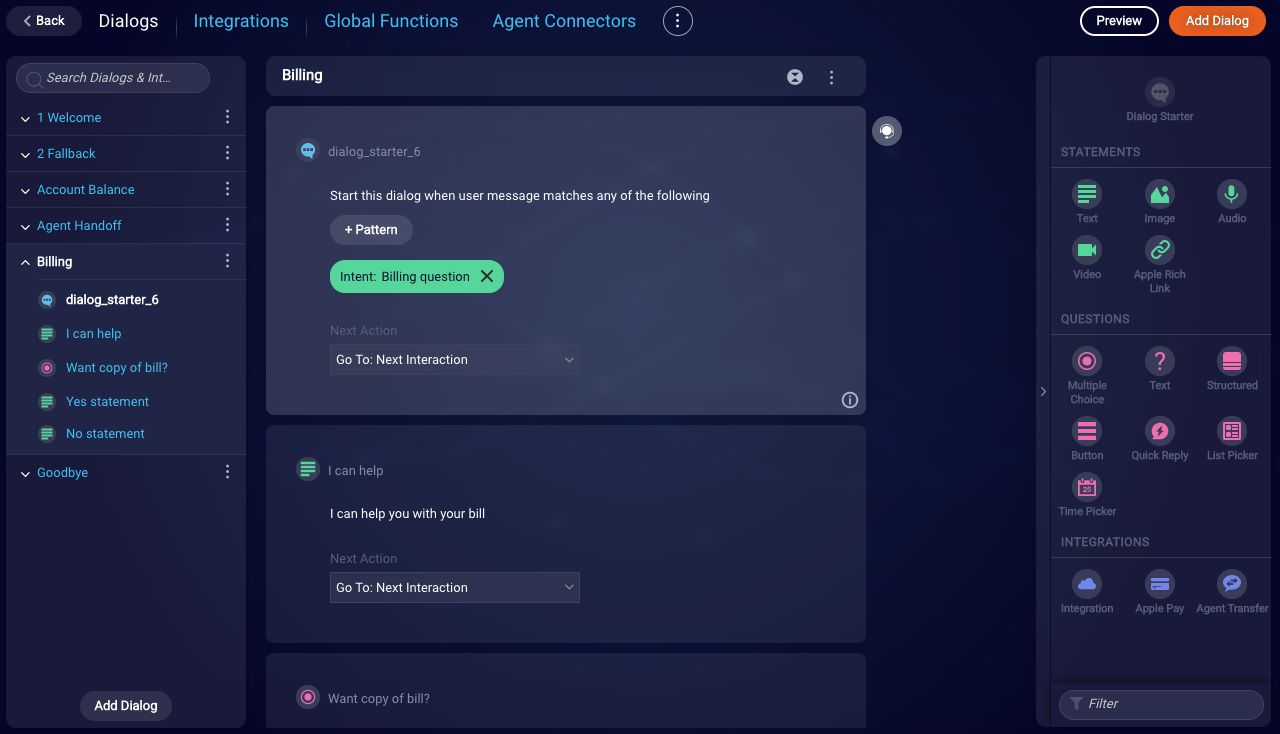 Conversation Builder is a dialog-based tool that allows non-technical staff to build, test, and visualize custom bots. They can do this easily using inputs and prompts from a point-and-click interface. Bots are built based on simple dialog flows, not complicated coding algorithms, so anyone can build a bot!
Bots created in Conversation Builder act as virtual agents that can also be tracked and monitored in the engagement portal just like any other agent. They can respond to conversations in their respective Messaging channel (e.g., Web, Apple Business Chat, SMS) without intervention and escalate to human when needed.
Unlike the limited "pre-chat survey" options available with older chat engagements, you can now create intelligent pre-conversation bots that can act on customer intent (What are Intents?), make skill routing decisions, integrate product catalogs/order systems/knowledge base articles - and even query industry leading services via API integrations.
Survey bots (for post-conversation surveys) are available too - with predefined interactions ready for capturing the standard survey metrics like NPS, CSAT and FCR. You can also add your own 'closed' or 'open-ended' questions for feedback to gather and report on custom metrics.
A library of pre-built, industry specific templates for automations is also available - so brands don't need to start from scratch to build their own bots.
Why use Conversation Builder?
With Messaging being one of the most effective ways to interact with consumers today, brands can expect the volume of conversations to grow. As more and more people ask questions, buy things, and get help using their preferred messaging service, brands need a way to keep up with this volume and scale their contact centers to support these relationships.
LivePerson is leading the industry with Messaging adoption using their conversational platform that combines bots, automation, and AI to enable this scalable transformation. Adding Conversation Builder to Live Assist for Dynamics365 allows us to offer you a one-stop-shop for quickly building bots that are tailor-made to be effective in this landscape. Take a look at some of the key benefits:
All-in-one platform to build and visualize intelligent custom bots

Easy to use no-code/low-code interface

Handle conversations over Messaging channels at scale

Bots tracked as agents and escalate to humans as needed

Build integration with business systems and industry services

Get up and running quickly with predefined, industry vertical templates
How can I get started with Conversation Builder?
If your Organization has already been enabled for Messaging engagements, please work with your account director to enable Conversation Builder. Bot agent accounts need to be added using the Live Assist Admin Portal first, after which they can be setup in user management from the Engagement Portal. Once available there, they can be assigned using the agent connector for your bot in Conversation Builder.
For more information about Conversation Builder, please visit: