Create a meaningful relationship with your customers by following up with them

Offline surveys are presented to visitors when no Customer Care Professionals (CCPs) are available to chat. You'd probably like to offer to follow up with them. This can be done by automatically presenting your visitors with a short survey where they can leave their details. This survey will also be displayed when consumers click an off-site engagement that is inactive.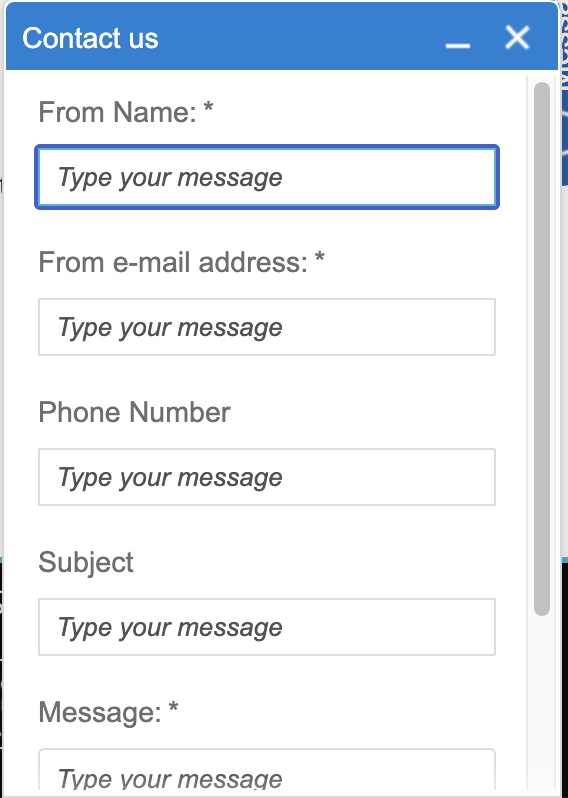 In order to achieve the desired result, getting information that will allow you to follow up with thevisitor, you'll want to minimize the effort on their part. Ask only what you really need to know to achieve this end, or they won't bother to leave their details at all.
A name and email address, or phone number (where only one is mandatory) should cover most of your needs. If you expect a large number of survey responses, you may wish to allow visitors to select or type in a subject or comment, to help you categorize the responses.
How to create an offline survey
1. In the Engagement Window Studio, click Chat to open the drop-down menu. Click Offline survey to edit it. There is no need to enable the survey since it will automatically display when no CCPs are available.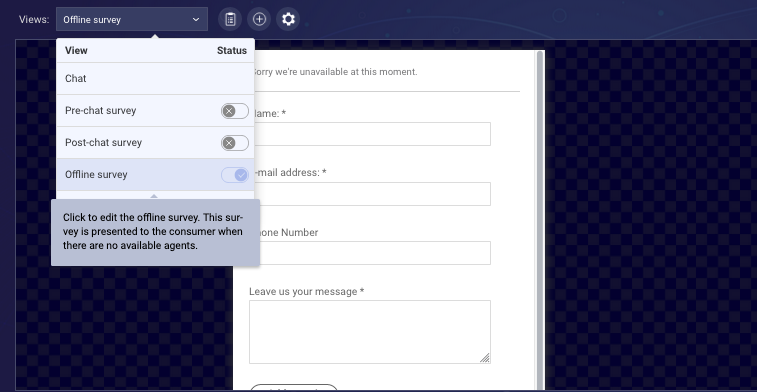 2. Click on an existing question to edit it, or click + Add question. Then type in the new question and select the Question type. If it is a required question, check the box at the right, Required question. Click Done.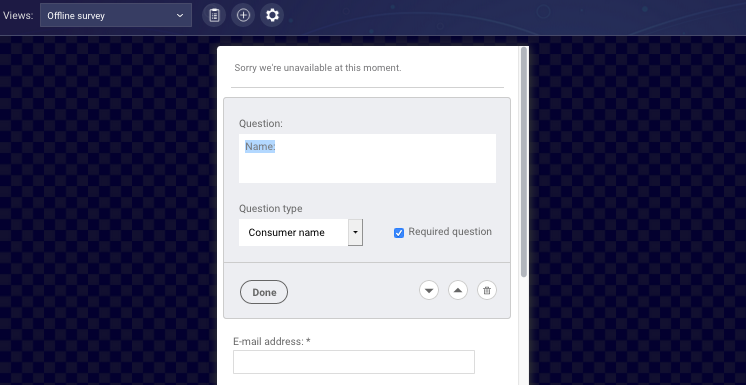 3. Click Save.
Now, when your Customer Care Professionals are not available, visitors will automatically be presented with this offline survey, and they can rest assured that you will follow up with them during regular business hours. This ensures a better experience for your visitors and offers you another opportunity to engage with your customers.
Once a visitor completes the Offline Survey, it will be sent to the creator of the Global Administrator of the Dynamics 365 CRM Tenancy. This will be the Global Administrator that installed Live Assist for Dynamics 365.
Routing Emails
Offline Surveys are emailed to the email address provided during the Live Assist for Microsoft Dynamics 365 installation. If you need to change the destination address of all offline surveys see: Campaign email configuration.