Campaigns are essential for working with Live Assist. They serve as a container in which several aspects of your online engagement efforts are included. Campaigns are focused on business goals, which help you measure the success and progress of your campaigns.
The following items are included in campaigns:
What you want to achieve (Goal)

The visitors you want to target (Target Audience)

How you want to interact with your visitors (Engagements)

The optimum place(s) on your website where you want to interact with visitors (Location)

The browsing behavior of visitors which is of interest to you (Visitor behavior)
The Live Assist account comes with a default out-of-the-box campaign. This campaign automatically adds a chat button to your site.
You can use the default campaign as a start, or add a new campaign.
1. Click Engage > Campaign Builder from Main Menu.
Here the list of campaigns is displayed.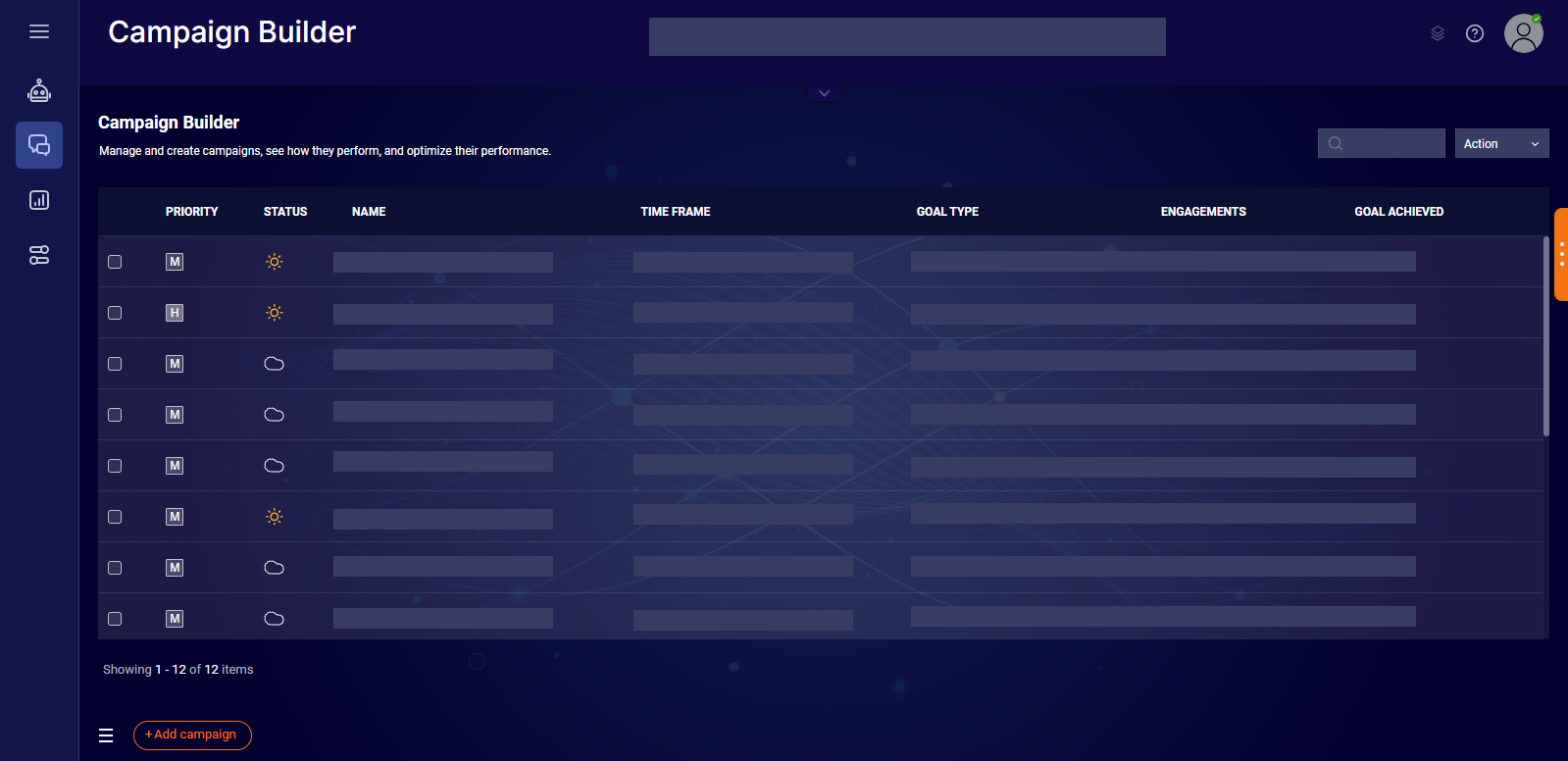 2. At the bottom of the screen, click the '+ Add Campaign' button.
The Add Campaign page is displayed: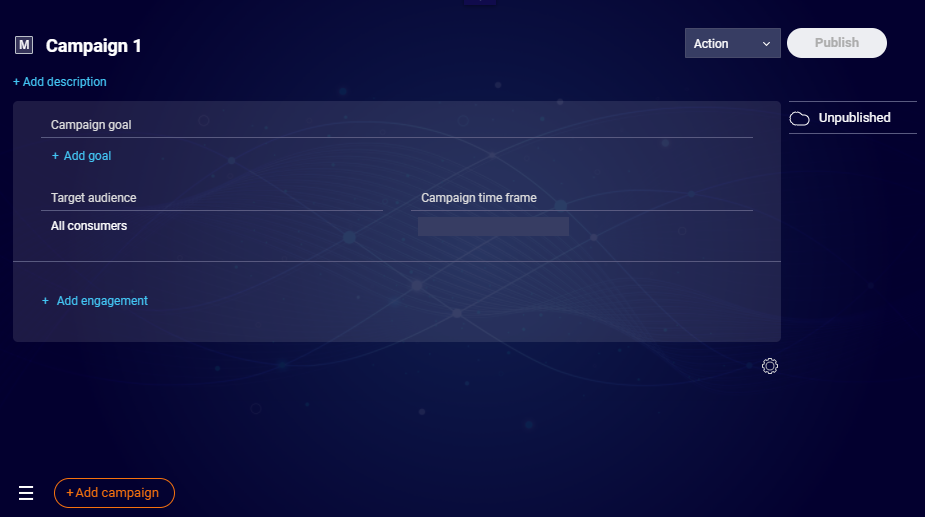 3. Type the name of your campaign into the top field, where it currently says Campaign 1.
4. Press Enter to refresh the page.
Live Assist campaigns focus on business goals: One goal per campaign. A goal can be as generic as 'increase sales from my website' or 'reduce emails to support', or more specific, such as 'sell more tablets online'. Goals allow you to measure the success of your digital engagement strategy.
The first step in building a campaign is to decide on one of the possible Live Assist goals that represent your business goal, for example, complete a service journey, generate leads, or sell a product or service. Choose from a variety of customizable goals that can be used as criteria for success.
To add a goal to your campaign:
1. On the Add Campaign page, click + Add Goal. The Goal library page is displayed.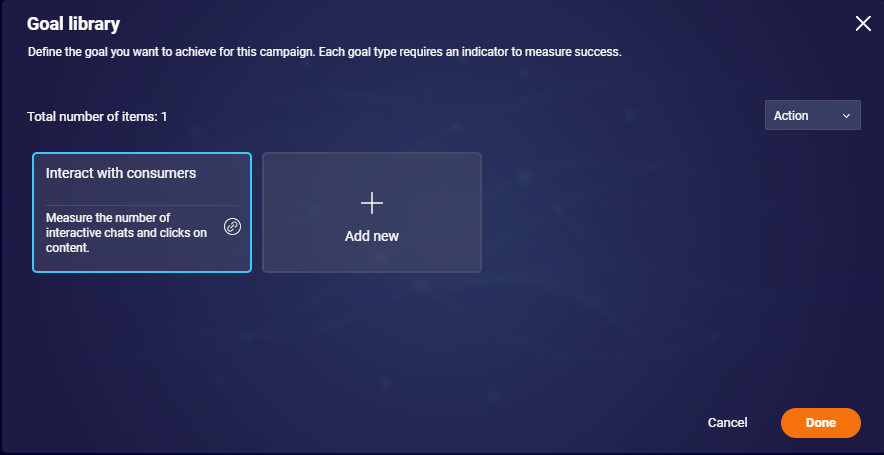 2. Select a goal by hovering over the goal and then clicking Edit. The Edit goal dialog box is displayed. Alternatively, create a new goal by selecting + Add new. The Add new goal dialog box is displayed.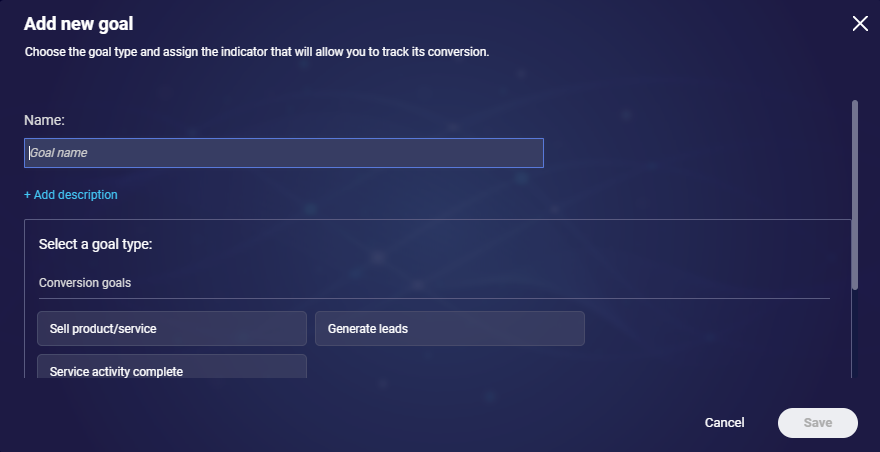 3. Enter the name of the goal, and select the goal type. Enter the Goal indicator settings, for example, the URL reached or Engagement Attribute. Click Save. This goal is now displayed in your Goal library.
4. Click Done to finish.
Live Assist allows you to accurately pinpoint the visitors that you want to include or exclude in your targeting. Decide when to display engagements according to your visitors' behavior by selecting the conditions you want to impose on the target audience.
The following conditions are available:
1. Flow: Identify visitors based on a predefined browsing pattern within your website.
2. Time on Location: Target visitors who have spent more than the defined time in selected location(s) during a single session.
3. Visited Location: Target and/or exclude visitors from selected locations on the website.
4. Cart Value: Target visitors according to the value of their shopping cart.
5. Products in Cart: Target visitors who have a certain product in their cart, products with a certain SKU (stock keeping unit), or a whole product category.
6. About to Abandon: Engage visitors who are about to abandon your site.
7. Viewed Product: Define visitor behaviors to discover which products are attracting the attention of your customers.
To define your target audience:
On the Add Campaign page, next to Target audience, click Edit. The Target audience library is displayed.


Select an existing target audience by hovering over one of the options and clicking Edit. The Edit target audience page is displayed. Alternatively, to define a new target audience, click + Add New. The Add new target audience dialog box is displayed.




Type a name for your target audience, and add a description.

Add conditions by selecting from the condition list on the left. Click Save.

Click Done to save this target audience.

Configure Live Assist to collect the data. If you have not yet configured tracking, a message is displayed: "We haven't received customer info data in the last 24 hours. You can click the Configure tracking button or you can configure tracking under Data Sources > Engagement Attributes > Visitor Information category."

The same process can be implemented for customer status. Examples of customer status might be "migrated" or "inactive".
It's possible to target the Audience's Platform for campaigns. The visitor's platform can be one or a set of the following platforms: Mobile Smartphone Devices, Mobile Tablet Devices, and Desktop/Laptop Devices.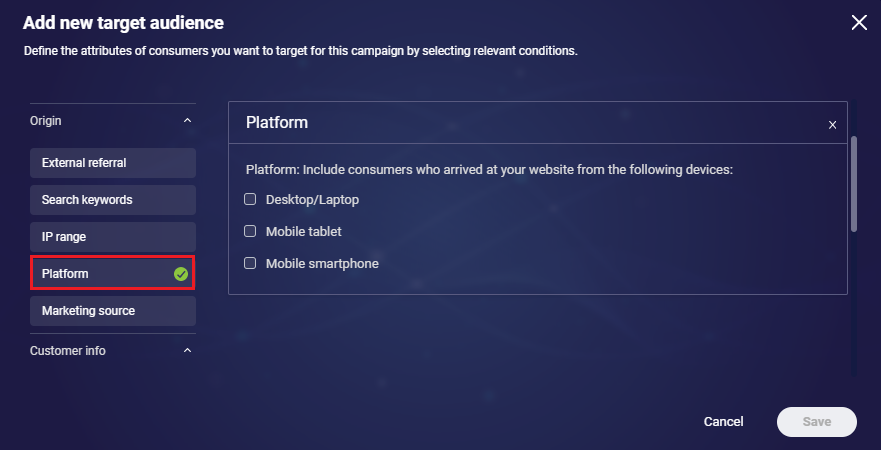 Note that an Engagement of the Live Assist for Microsoft Dynamics 365 Mobile SDK can disable following the steps found on the Mobile-Specific Engagements.

Here is a list of Audience conditions that you may target across your campaign:
External referral

Search keywords
IP range
Platform
Marketing source
Customer info
Geo location
New or Returning
Customer info
Visitor age

Time since registration
Company size
Balance

Customer ID
Gender

Store ZIP code
Store number
On the Add Campaign page, next to the Campaign time frame, click Edit. The Campaign time frame is displayed.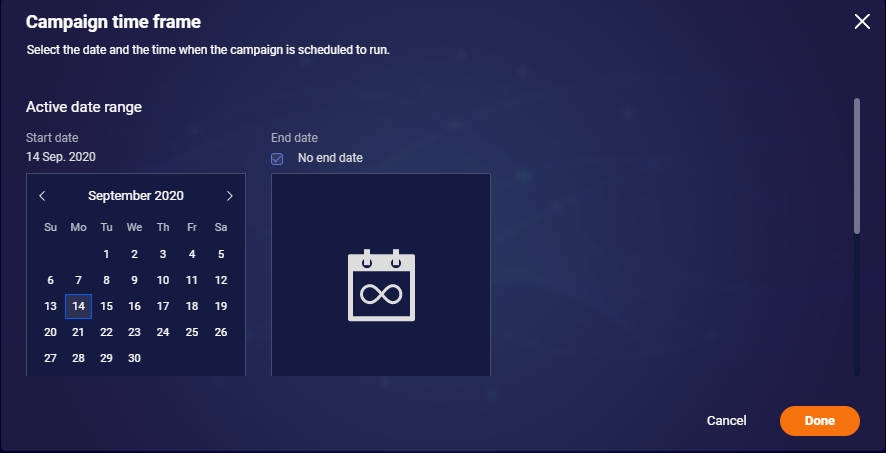 2. Set the dates and hours when you would like the campaign to operate.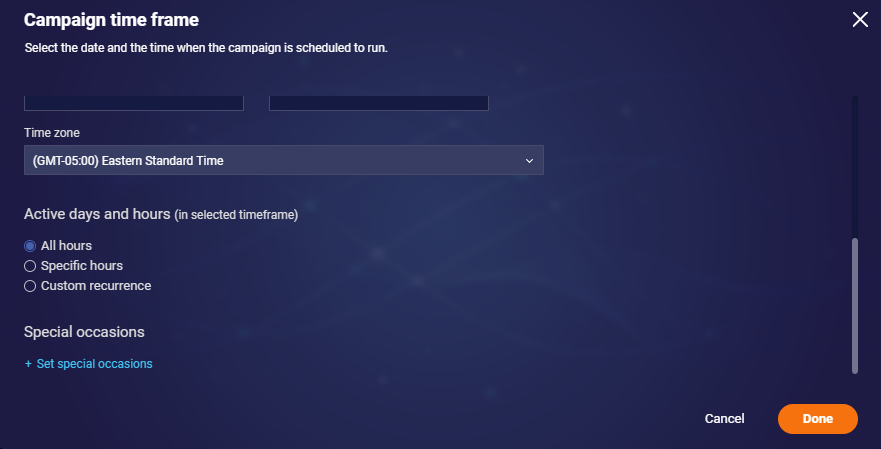 Important:
i. The time zones are relative to GMT and therefore will need adjusting for Daylight saving twice a year.
ii. If you require an offline survey outside of these hours, consider running two campaigns with their own engagements. For example: enable an offline survey engagement when a new campaign starts at 6 pm.
3. Click Done to finish.