The post-chat survey is a great way to allow your consumers to provide you with feedback
Asking your consumers to complete a brief survey at the end of a chat session can provide you with valuable input and insights about their experience.
The post-chat survey can include questions about the wait time, the information provided, the agent's service, their overall level of satisfaction, or any other comment your consumer may have.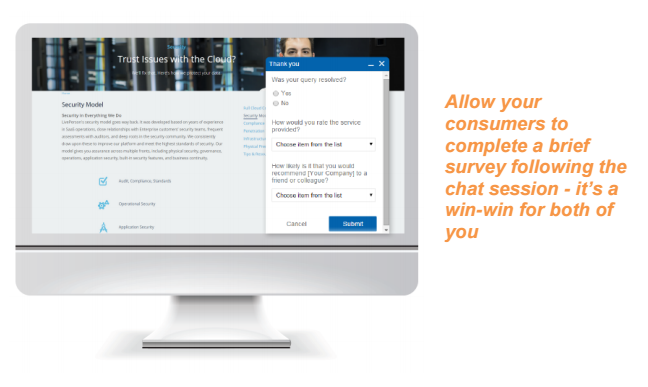 A win-win for both sides
Post-chat surveys improve customer satisfaction and help you improve your business.
Asking your consumers for their feedback can go a long way – they'll appreciate the fact that you value their opinion and are interested in what they have to say about your services. Listening to the "voice of the customer" will enhance customer experience and result in greater satisfaction and loyalty.
Gathering and analyzing the input provided through post-chat surveys will help you optimize your chat strategy. You can use the intel to evaluate your agents (as well as recognize top-performers), create better chat guidelines, and develop new training materials.
What to include in a post-chat survey
When creating a post-chat survey, you can ask any of the following questions. Don't forget to make it easy on your consumers by supplying them with the possible answers.
• Was your query resolved? (use a yes/no radio button)
• How would you rate the service provided? (use a scale combining both numbers and words, such as 5=excellent, 4=good, 3=average, 2=poor or 1=extremely poor)
• How likely is it that you would recommend [Your Company] to a friend or colleague? (use the Net Promoter Score scale of 0-10)
• Would you like us to send you a transcript of the chat? (use a yes/no radio button along with a text area for their e-mail)
• Comments (use a text area)
How to create a post-chat survey
While creating an engagement within a campaign, add a post-chat survey and define the information you would like to receive from the consumer at the end of the chat session by following these steps:
1. In the Engagement window studio, select Post-chat survey: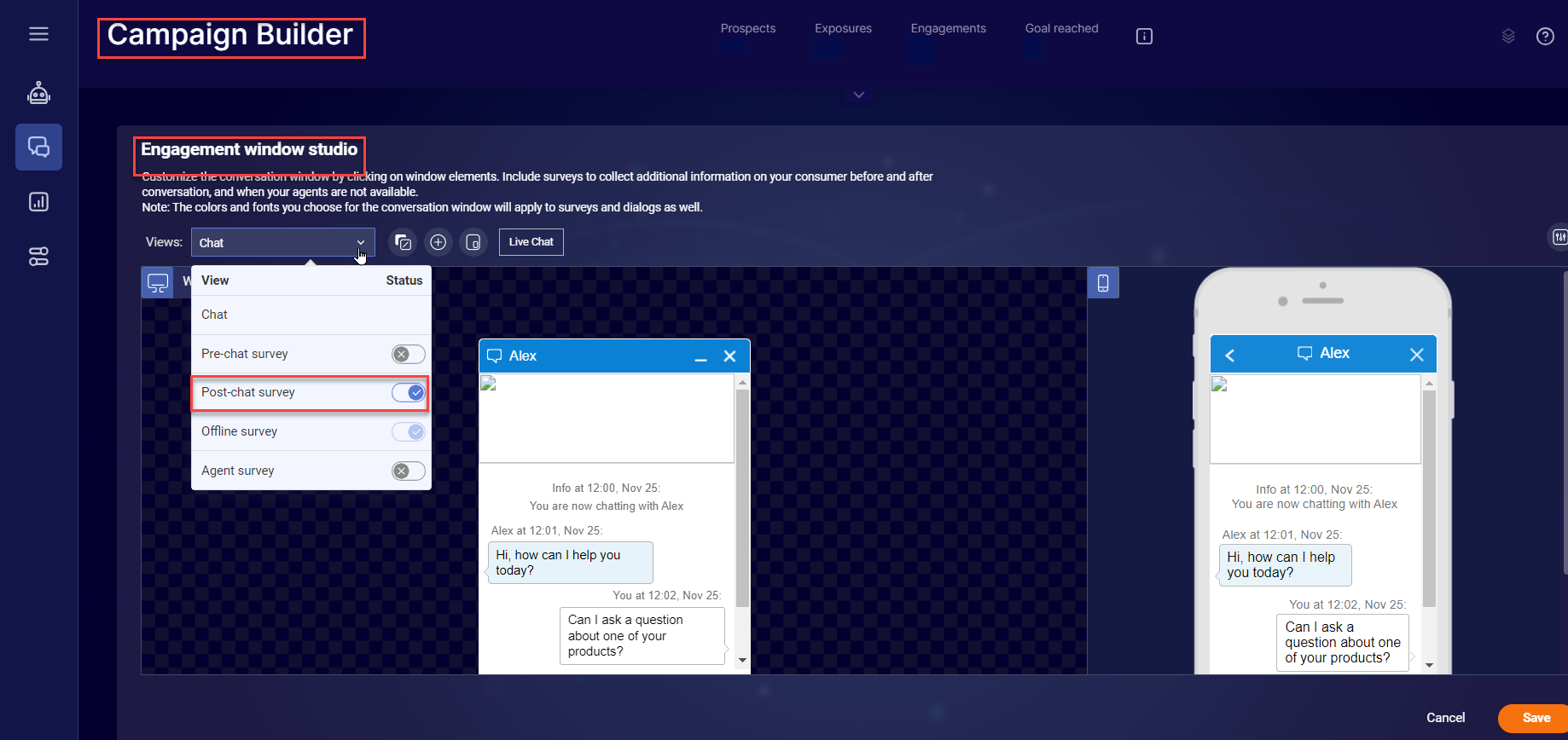 2. Click the Survey list and then + New survey: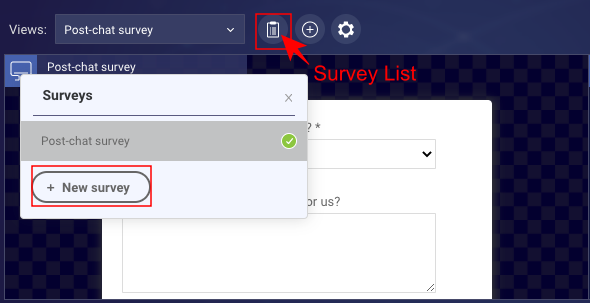 3. Click Add Question to add a new question:
4. To configure the question:
• Type in your Question (A).
• Select the Question type (B).
• Check the Required question checkbox (C) if you want the question to be mandatory.
• Click Done (D).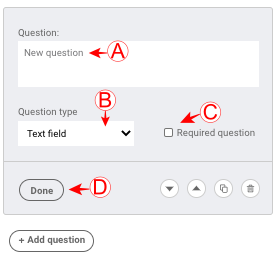 5. When you finish editing the survey, click Save on the bottom right.
Utilize the post-chat survey to collect valuable feedback while enhancing customer experience.We recommend creating a post-chat survey for all of your engagements, thus maximizing the value of each interaction with a consumer.
Post-Chat Survey Answers
To check the post-chat survey answers that a visitor has responded with, check the Web History > Visit Info: